Berlin police launched raids on multiple locations in the city on Wednesday, deploying a SWAT team and making several arrests linked to the spectacular robbery on the Bode museum in March. While authorities confirmed that arrests had been made, they did not provide any details on the suspects.
The majority of the raided homes were in the district of Neukölln, a police spokesman said. However, there was still "no decisive information" on the location of the coin.
Police had previously speculated that the 100-kilogram (221 pound) coin could have been divided into smaller chunks.
Issued by the Royal Canadian Mint in 2007, the "Big Maple Leaf" has a face value of $1 million Canadian ($745,000, 675,000 euros). However, the material alone is worth of $4 million.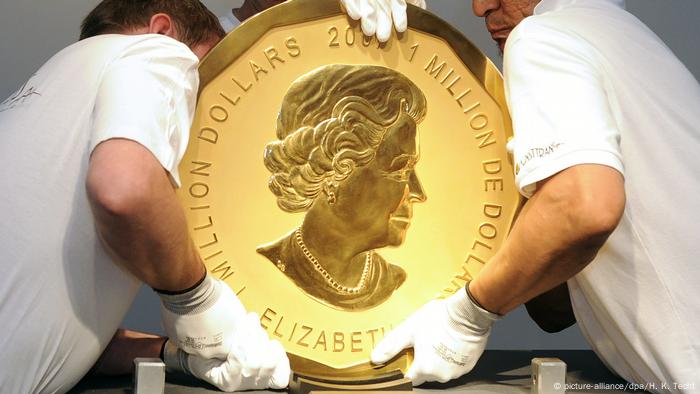 The Canadian treasury assigned the coin the nominal value of 1 million Canadian dollars, but its real value is several times higher
Across the bridge in a wheelbarrow
As DW reported in late March, the group of thieves likely broke into Berlin's Bode Museum from an elevated section of tram tracks which run alongside the museum walls. Security footage from a nearby stop shows three masked perpetrators. They allegedly placed a ladder on the tracks to reach a window and gain entry to the building. They then smashed the glass display case and rolled the 53-centimeter (21-inch) coin outside.
According to the investigators, the thieves then loaded the coin into a wheelbarrow and wheeled it across a railway bridge to the other side of the river Spree. They then climbed off the tracks on a rope and loaded the coin into a car.
Read more: Berlin 24/7 - After the theft of the Big Maple Leaf
The investigators found a deep impact mark below the tracks, suggesting that the coin was dropped and likely damaged. The police also found the rope, the ladder and the wheelbarrow as well a burning Mercedes in an underground car park.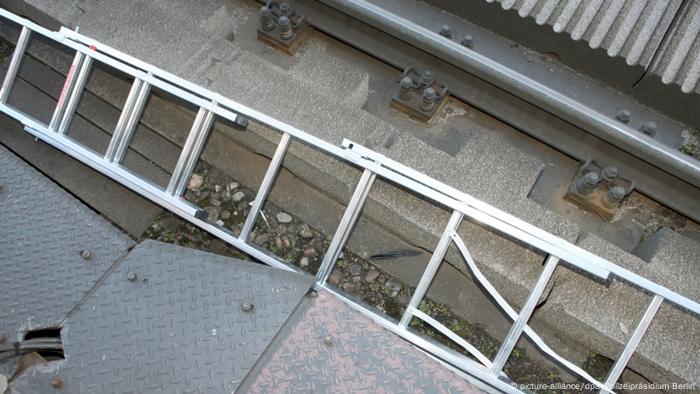 The ladder was found next to the tram tracks
Stolen coin on a loan
The "Big Maple Leaf" is one of only five in the world. It features a portrait of the Queen Elizabeth II, Canada's nominal head of state. It boasts record purity of 999.99/1000 gold.
The owner of the coin loaned it to the Bode museum in 2010, to be displayed as part of one of the largest numismatic collections in the world, the German Münzekabinett. In an interview for DW, the collection's director Bernhard Weisser said he hoped the coin would resurface and be displayed again "no matter what condition it might be in."
dj/rt (dpa, AFP)