June 12 is the 200th anniversary of the invention of the bicycle, and tens of thousands of cyclists in Berlin seized the opportunity to take part in the 40th annual Sternfahrt, or star ride. Bikers set off from various points in and around Berlin and converged at the massive Grosser Stern traffic circle in the middle of the city, with some having ridden 50 to 60 kilometers (30-35 miles) to get there.
The traffic circle was temporarily closed to automobiles, as were sections of Berlin's ring highway system and several main roads. For a day, bikes had the right of way, but, if activists succeed in pushing through their demands, Germany's capital will soon show increased hospitality to cyclists.
Berlin promotes cycling for tourists, and the number of bikers in the city has doubled over the past decade. But, out of 40 cities, the German Cyclists' Association recently rated Berlin fourth worst for biking.
Last year, activists at an initiative called Berlin Bicycle Referendum got more than 100,000 city residents to sign a petition for improved riding conditions. The initiative has presented the city's left-wing coalition government with a whole catalog of demands.
Those include building 1,350 kilometers of bike paths, creating 2-meter-wide cycling lanes on all major roads, reconfiguring 75 of the most dangerous crossings per year and constructing 200,000 new bicycle parking spaces. The initiative also aims to eliminate cyclist traffic fatalities entirely - 17 people died in bike accidents in Berlin in 2016.
Bicycle law lags
The administration has promised to improve the situation and even boasted that Berlin would become the first of Germany's 16 federal states to enact a bicycle law. But little progress has been made, leading the organizers of the initiative to file an official complaint of inactivity with Berlin's Senate at the end of last year.
"Our patience is at an end because another cyclist just died," initiative co-organizer Heinrich Strössenreuther wrote. "Something should have been done to increase our safety a long time ago. Instead, the Senate is sabotaging the legislative process."
According to the Senate, an evaluation found that parts of the initiative's proposed law were unconstitutional. It also estimates the costs of fulfilling the initiative's demands at almost 2.2 billion euros ($2.5 billion). On Saturday, the Senate announced that there is no way to pass the cycling law before the city legislature takes its summer break.
"We're pretty upset about that," the Berlin Bicycle Referendum activist Norbert Michalke told DW. "Firstly because the agreements we had were completely different. And secondly because we only heard about it in the newspapers."
But Nikolas Link, the spokesperson for the German Cyclists' Association, said he did expect the law to get moving again.
"We met Berlin's senator for transportation today during the Sternfahrt, and she said that she'd like to see the bicycle law passed in 2017 and would do everything in her power to see that it is," Link told DW.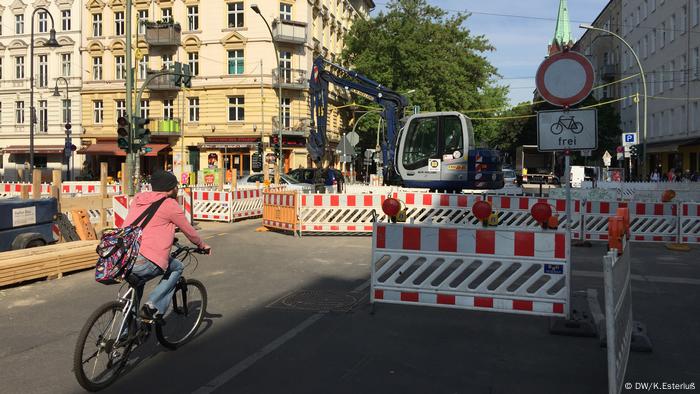 Cyclists don't always have it easy in the German capital
Tepid bureaucracy
The plans for a new network of bike paths and cycle-friendly traffic configurations, including 4-meter-wide express lanes that have been dubbed "autobahns for cyclists," would remake Berlin's urban landscape.
Drivers aren't necessarily all happy about a utopia for nonmotorized two-wheelers. ADAC, the German motorist association, has expressed fears that cars won't have enough places to park and the flow of traffic could be disrupted if the initiative gets everything it is demanding. However, ADAC also cited a study from the United States that concluded that more and better bike paths were actually in the interest of car drivers, as well.
"New cyclist lanes don't slow down car drivers at all," ADAC reported in a statement.
Link also disputes the idea that cyclists' interests are in conflict with those of motorists.
"Most car drivers are also cyclists," Link said. "Cycling isn't a niche for environmental freaks anymore. It's become mainstream. In downtown Berlin more trips are made with bicycles than with private cars. The politicians now have to catch up with this trend."
Activists have called on the city to increase its efforts to speed up the process.
"There are problems everywhere," Michalke said. "The administrators are too slow, and the negotiating team dealing with us activists isn't really making any progress. The Senate hasn't devoted enough personnel to work out the legalities."
Nonetheless, Michalke said, he, too, believes that the law will come at some point - in part because so many people are starting to use cycling as a means of getting around.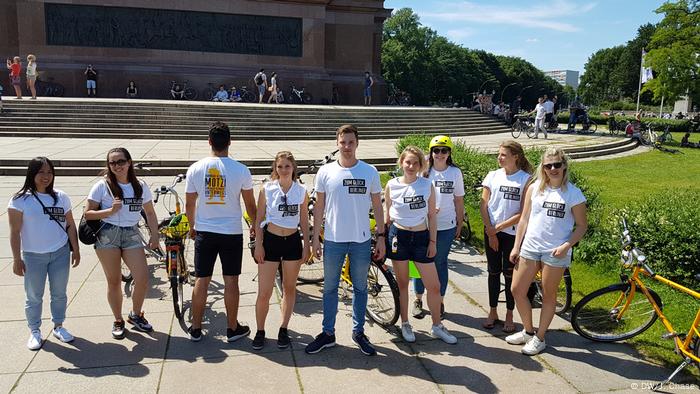 The crowds of cyclists in Berlin were young and definitely mobile
Growing the numbers
Bikers who took part in Sunday's ride and demonstration in Berlin generally agreed that the city could do more for cyclists.
"I don't like riding a bicycle in Berlin," said a man named Andreas, who described it as "very dangerous." "I come from Potsdam, and there's a big difference riding a bike there."
Hannelore, who took part in a 7-kilometer fun ride for children, agreed.
"No, it's not safe enough," she told DW. "Not enough is being done, and the measures that have been agreed have been delayed. I think it's probably because of the bureaucratic process. Maybe they don't have enough personnel. In any case, it's taking too long."
A woman named Alexandra said she didn't feel that cycling in Berlin was especially hazardous.
"I don't think it's any more dangerous than in other cities," she told DW. "I think you just have to mind the rules, make sure your bike is okay and wear a helmet. But the city should do more, put more bike lanes in so that people don't think it's so dangerous. Normally I wouldn't cycle here because it's such a big street. So I think more bike lanes would encourage more people to cycle."
The administration now has a year until the next Sternfahrt to demonstrate to cyclists that progress can be made toward turning Berlin into a more bike-friendly city.