You still have a suitcase in Berlin? Well, forget it! You have an apartment in Berlin? Awesome! You're among the lucky ones. You better stay where you are. Don't move! It can only get worse.
Unaffordable for artists
Finding a new apartment in Berlin is like winning at the lottery. The one you want may well be beyond your reach.
"Prices just aren't proportionate to what you get," a friend of mine told me, echoing the complaints of many Berliners. All I needed to do was to mention the housing issue to get her grumbling. Some of her friends, she claimed, had to spend half of their income on their rent, and no end was in sight to the spiral.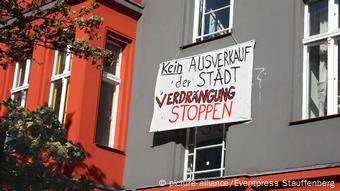 This sign protests against people being pushed out of the city through rising rents
My friend works at an artists' agency. Some time ago, many artists made Berlin their home as they knew that life there was as affordable as parties were awesome.
But these gorgeous times when Berlin was still poor and rents were low are definitely over - a shocking experience made by many foreigners who have moved to Berlin.
Like me. When I moved from Washington DC to Berlin one year ago, I was convinced it would be easy, and that rents here wouldn't have skyrocket as they did in DC, where paying $3,000 for a 90-square-meter (970 square feet) apartment is considered normal.
Berlin doesn't want you
I seriously thought one weekend would be enough to find an apartment. Well, in the end it was six months. With six brokers searching for a place for me.
These six months were filled with many disappointments and temporary shelters, hopping from one Airbnb to the next, trying to bridge my homelessness.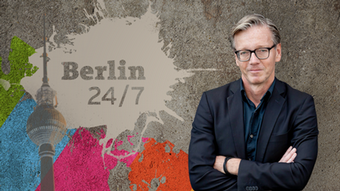 Gero Schliess' Berlin 24/7 column appears every Sunday
That was a tough time for me. It almost felt like Berlin didn't have a place for me, as though Berlin didn't want me.
But of course, there are some good reasons for the housing shortage. First of all, there simply aren't enough apartments in Berlin, and the shortage drives up rents and real estate prices. In no other city in Germany did prices go up so dramatically as in the country's capital.
The balance between available apartments and apartment-seekers is a disaster. Over the last five years, five times more people came to Berlin as new apartments were built. By now, there's a shortage of 125,000 apartments.
More sex offers than rooms
And it's even getting worse. It goes without saying that the present situation is good news for swindlers and frauds. In contrast to housing space, they seem to have proliferated to an amazing extent.
Suddenly, ugly exploiters have appeared to squeeze out anything they can from poor students and large families. And their morals are pretty low.
A student holds a sign, "My house, my university, my first semester," camping out in front of Humboldt University
As I just couldn't find a place to rent, I figured I should engage in a financial adventure by purchasing a condominium. Brokers drove up the price twice during negotiations.
A young student from Georgia also made bewildering experiences. After she posted a "wanted" ad, the young woman did not find any apartment, but sex offers. Someone even literally told her: "You're welcome to sleep in my bedroom."
It sounds like the new Berlin version of assisted accommodation. This city used to be famously known for being "poor, but sexy." By now, it has become rich, making tenants poor. Not so sexy.
By the way, I did find an apartment in the end, in a nice neighborhood at that, Prenzlauer Berg. But my luck also has a sad side to it. The former tenants, a young couple with a baby, couldn't afford the place anymore. Now, they live somewhere in the outskirts of Berlin.