Astrid Kirchherr, a German photographer famous for her early images of the Beatles in the 1960s, has died at the age of 81.
She died on Tuesday in her hometown of Hamburg just days before her 82nd birthday, her friend and fellow photographer Kai-Uwe Franz said on Friday.
German newspaper Die Zeit reported that she passed away following a "short, serious illness."
Kirchherr took some of the earliest pictures of the band during their time in Hamburg. In addition to her striking images, she's also credited with influencing the style of band's clothes and their infamous mop-top hairdos.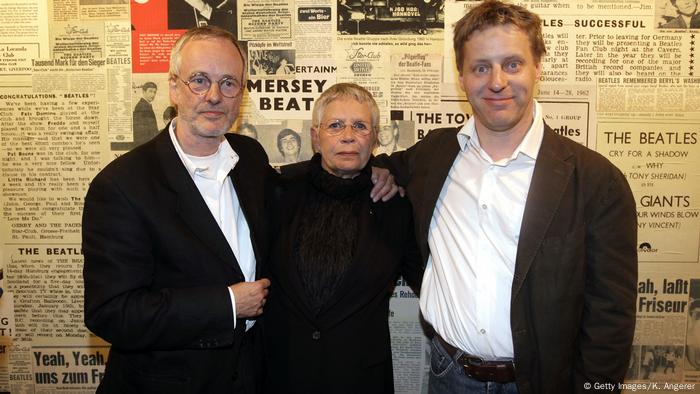 Astrid Kirchherr (center) in Hamburg in 2009
'A beautiful human being'
Tributes for Kirchherr poured in across the Beatles universe following the announcement of her death, with Beatles historian Mark Lewisohn tweeting that she was an "intelligent" as well as "loving and uplifting."
"Her gift to the Beatles was immeasurable," Lewisohn wrote.
Olivia Harrison, George Harrison's widow, tweeted that Kirchherr was "so thoughtful and kind and talented, with an eye to capture the soul."
"God bless Astrid a beautiful human being," Ringo Starr tweeted, posting a picture of Kirchherr with the band.
'My whole life changed'
Kirchherr was working as a photographer's assistant when she first met the band in Hamburg in 1960. At the time, the band was comprised of the original members: John Lennon, Paul McCartney, George Harrison, Stuart Sutcliffe and Pete Best.
"It was like a merry-go-round in my head, they looked absolutely astonishing," Kirchherr later told Beatles biographer Bob Spitz. "My whole life changed in a couple of minutes. All I wanted was to be with them and to know them.''
Best was later replaced by drummer Ringo Starr in 1962 and McCartney took over on bass for Sutcliffe after he left the band and got engaged to Kirchherr.
Kirchherr and Sutcliffe fell in love and married, although their relationship ended tragically when Sutcliffe died of a cerebral hemorrhage in 1962 at the age of 21.
"He was, and still is, the love of my life," she told NPR in 2010. "I never, ever — and I was married a couple of times — met another man who was so fascinating, so beautiful, and so soft and well-mannered. You name it and that he was, and such a gifted artist.''
Kirchherr went on to work as a freelance photographer and interior designer. In recent years, she helped run a photography shop in Hamburg. Her photographs of the Beatles have been included in exhibitions around the world, including at the Rock and Roll Hall of Fame in Cleveland, Ohio.
rs/stb (AP, dpa)
DW sends out a daily selection of the day's news and features. Sign up here.