The first attack on Kurt Georg Kiesinger backfired: Beate Klarsfeld published an article in France in 1967 in which she denounced the Nazi past of the then German chancellor. It had no noticeable effect - except that her employer, the Franco-German youth organization, summarily fired her. The second attempt also fell flat: When Klarsfeld shouted down Kiesinger from the public gallery of parliament in April 1968, ushers rushed in and led her out.
Spectacular actions were needed, the then 29-year-old Klarsfeld decided. At the CDU party congress in West Berlin, half a year later, she made her grand entrance: Just as Kiesinger prepared to begin his keynote address, she climbed onto the stage and slapped the chancellor in the face, shouting "Nazi! Nazi! Nazi!"
Celebrated abroad, vilified at home
Beate Klarsfeld's slap made global headlines. Abroad, she was celebrated as a "Nazi hunter" but to many Germans she was a traitor. The legal consequences of her actions were less serious than feared: that same day she was sentenced to one year in prison, but because she was also a French citizen, she avoided jail. Later the sentence was reduced to four months and even suspended.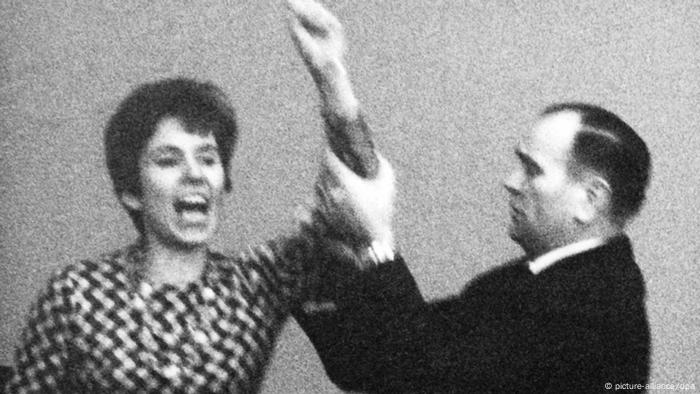 Klarsfeld is famous for slapping the then German chancellor, Kiesinger
It was the beginning of a lifelong hunt for Nazi criminals who had remained unpunished after the war and threatened to become completely forgotten. Among them was the former Paris Gestapo chief Kurt Lischka: Although he was found guilty in absentia by a French military court and sentenced to life imprisonment for the deportation of tens of thousands of people to Auschwitz, he lived undisturbed in Cologne, as the law at the time prevented extradition to the neighboring country. To hand the SS major over to French justice, Klarsfeld attempted to kidnap him. It failed, but at the same time accelerated the ratification of a Franco-German agreement on the prosecution of Nazi criminals, which later came to be known as the "Lex Klarsfeld."
A life for justice
Her hunt for Nazis in hiding reached its climax in 1983. After Klarsfeld had spent more than a decade searching for the "Butcher of Lyon," Klaus Barbie, she forced his extradition from Bolivia to France. Four years later, the former Lyon Gestapo chief was convicted of crimes against humanity and sentenced to life imprisonment.
She began to make tracking down Nazi criminals her life's work in the early 1960s. The 21-year-old Berlin native went to Paris, where she first worked as an au pair; a few years later, she met and married Serge Klarsfeld, who was Jewish. His father had been deported to Auschwitz by the Nazis, where he was murdered. Since then, she has never let go of the topic of the Holocaust. "There have to be Germans who are not content to let sleeping dogs lie and sweep everything under the rug."
For her activities she has received honors in Israel and France, and in 2009 she was awarded the Georg-Elser Prize in Munich. Twice she was nominated for the Federal Cross of Merit, but did not get it. "That's probably because of slapping Kiesinger," Klarsfeld said.
Author: Klaus Dahmann / sb
Editor: Joanna Impey