The gala event of the opera world is currently underway in the Bavarian city of Bayreuth. Actual tickets to the Bayreuth Festival, which takes place every year from July 25 to Aug. 28, are among the most elusive in the world, with a waiting list of 10 years or more. But this year opera fans who have not been given the honor of paying the entrance fee have two other choices: a live screening in the center of town or a live stream via the Internet.
Wagner meets the Web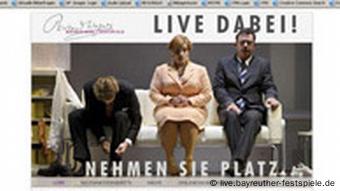 There are up to 10,000 online tickets up for grabs until Aug. 2
Now while watching a world-class opera while sitting on your couch in a pair of boxer shorts might sound like a good idea, it comes with a price: 49 euros ($77) to be exact. For this one-time fee viewers were given the chance to watch Katarina Wagner's interpretation of her great-grandfather's opera "The Mastersingers of Nuremberg" live on Sunday night.
Bayreuth performances have been broadcast live on the radio from the festival for decades, but the live Internet stream also provides a look at the opera. In addition to seeing the actual opera itself, which ran for over six hours, Webcast ticket holders were able to take a glimpse backstage and can watch the performance once more any time before Aug. 2.
The Internet broadcast was limited to 10,000 subscribers, including any who choose to sign up to watch after the live showing. The company in charge of the stream, BF Medien, said it will not announce how many people logged on to see the performance until after the Aug. 2 cut-off date.
Fan mile for opera buffs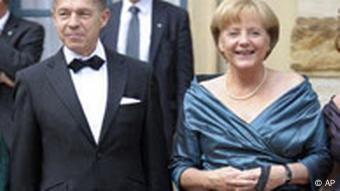 Some people, like German Chancellor Angela Merkel, don't have to wait on a list for tickets
For those who didn't have high speed Internet, or felt 49 euros was too high a price to pay, there was also a live screening on Bayreuth's "fan mile."
It is estimated that 38,000 people came to watch the opera, which was filmed using eight different cameras. The number includes multiple comings and goings during the event Sunday afternoon, so the number of people who attended was far lower, festival spokesman Peter Emmerich said. Only 15,000 were allowed in front of the 90-square-meter (969-square-foot) screen at any one time.
Emmerich said that if the free event were to be repeated, it would require a corporate sponsor to step forward. This year's event was backed by 150,000 euros from the German electronics and engineering conglomerate Siemens.
The two new viewing options are sure to help more people appreciate opera, according to Alexander Busche, who helped to organize both the Webcast and the public viewing.
He said the viewing was like watching German soccer fans surrounding a screen in a beer garden during a championship match -- only quieter.
"It was amazing to see thousands of people sitting there, quietly staring at the screen," Busche said. "You almost didn't want to move for fear of disturbing them."
The future of opera?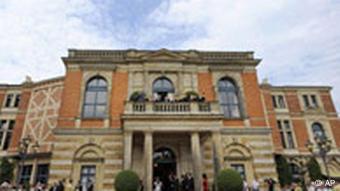 There are only seats for 2,000 visitors in the Bayreuth Opera House and no air conditioning
Live streams are becoming more and more common, but whether this will be a lasting trend remains to be seen. The most downloaded Webcasts are news programs and sitcoms, usually provided for free by national and international broadcasters.
Other leading opera houses, including La Scala in Milan and the Metropolitan Opera in New York, have regularly offered high-definition theater-casts in the past. The Met is currently about to open its third season offering live broadcasts of operas. Though instead of being offered for 49 euros on your laptop, they go for about 15 euros ($22) and are broadcast in regular movie theaters. The Met currently has broadcasts in 17 countries, including Germany, as well as regular live radio broadcasts, said Peter Clark, spokesman for the New York opera house.
According to Sebastian Rohver with the Hamburg based Internet consulting firm Fittkau and Maaß, 90 percent of all German Internet users have taken advantage of live streams and 72 percent believe they are the future of television and other events like sports and concerts. But paying for the privilege remains a sticking point to some.
"As to whether or not people will be willing to pay such a large amount of money to watch something of unknown quality is very doubtful," Rohver said.