When Bayern Munich's players disembarked from the plane of their sponsors Qatar Airways for their winter training camp in January, they stepped into the gleaming new Hamad International Airport, ranked one of the best in the world. But a new report suggests that the club's inaction has contributed to the shocking working conditions endured by the country's armies of migrant workers in the same airport.
A reporter working for Norwegian sports magazine Josimar spent time with workers at Hamad, in the country's capital Doha, and reported stories of workers who were paid substantially less than they'd been promised, worked more than 100 days straight, were paid differently according to nationality and were not allowed breaks.
Read more: 'Bayern Munich cannot remain silent'
Conditions in Qatar, where widespread building is taking place ahead of the 2022 World Cup, have been on the international radar for some time. But the report, which was later published by British newspaper The Independent, suggests that Bayern asked the German government for advice on how to proceed with a potentially lucrative deal with Qatar Airways that was eventually signed earlier this year.
The story states that the club had asked the office of German chancellor Angela Merkel for advice at the end of 2016 due to the potentially controversial nature of the deal. The advice was that the club should tread carefully and be sure to meet the following conditions.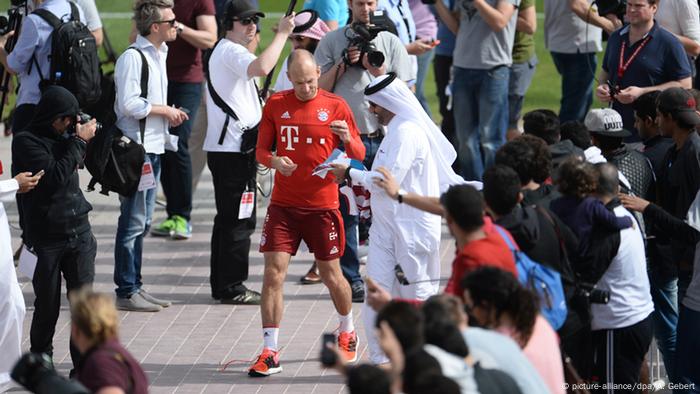 Arjen Robben on one of Bayern's tours to Qatar
"[Express] its support for basic and much-needed labor reforms in Qatar and very specifically make clear its expectation that Qatari authorities will abolish the highly abusive system of exit visas which means that any foreign worker needs his/her employer's permission to leave the country in the form of an exit visa.
"Secondly, Bayern Munich could take steps to ensure that the workers involved in any of the club's activities in Qatar, whether that be the workers in hotels or at training facilities, are properly protected."
Read more: Bayern Munich under scrutiny after agreeing sponsorship deal with Doha Airport
The report states that these recommendations have been ignored and a statement from Bayern in response to the latest story made only fleeting reference to the allegations.
"Our partners in Doha already knew that we represent the values of our culture, the values of sport in general and of our club in particular. We have been pushing for dialogue regarding these values since. Our partners support us."
Earlier in the year, Bayern CEO Karl-Heinz Rummenigge said that "thanks to football, conditions for workers in Qatar have improved," but that was not a line accepted by some of the club's fans, who have displayed banners expressing their displeasure with his words and the club's commercial relationship with Qatar Airways.
"It's actually quite tragic," said Nicholas McGeehan, Human Rights Watch's (HRW) former Gulf expert said. "They come out with an announcement which does not address the very serious findings with which they have now been confronted. To me, this shows that Bayern have no interest in doing the right thing, and, when push comes to shove, they're solely interested in money."
These comments echo those of the German director of HRW Wenzel Michalski, who told DW earlier this year that the club were failing to live up to their responsibilities. "We've been disappointed that the club hasn't commented publicly on this issue," he said. "Bayern is a company with statutes and values, and their silence on the issue contradicts the values the club claims to champion."
As well as their links to the German champions, Qatar Airways is a major sponsor of the upcoming World Cup in Russia and world football's governing body FIFA responded to the story.
"FIFA takes its responsibility regarding human rights very seriously. Violations of workers' rights are not conducive to our values. FIFA are proactive and carry out thorough evaluations before entering into commercial deals, in order to minimize the risk of human rights violations. This is the first time we have been confronted with specific statements regarding Hamad International, and we will contact our local and international partners to check the veracity of these claims."