The title race went down to the final day but, after four years of Wolfsburg dominance, the Women's Bundesliga has a new champion: Bayern Munich.
The Bavarians sealed their third Bundesliga title, and fourth German championship overall, with a 4-0 win at home to Eintracht Frankfurt on Sunday, finally going that extra step after four years as runners-up.
"My trust in my players is limitless," head coach Jens Scheuer had said pre-match, and his team quickly showed why, with midfielder Linda Dallmann setting the tone early on with a quick-fire brace inside 25 minutes at the FC Bayern Campus.
Simultaneously, challengers and reigning champions Wolfsburg were already 4-0 up against Werder Bremen and would go on to win 8-0. But they could have won 20-0 and it wouldn't have made a difference, with leaders Bayern only needing to avoid defeat.
For Wolfsburg, the damage was done a month ago when they could only manage a 1-1 draw at home to Bayern, when a win would have seen them go top with just two games remaining.
Instead, Bayern had their fate in their own hands and added a third goal early in the second half when Frankfurt captain Laura Störzel sliced a cross over her own goalkeeper and into her own net. Lea Schüller added a fourth goal with the final kick of the game.
With the title as good as confirmed, veteran Simone Laudehr came on for the final 10 minutes, the 34-year-old making her 210th and final Bundesliga appearance, and adding the Bundesliga title to the World Cup, European Championship and Olympic titles won in a glittering career.
"Indescribable! It was a very, very hard time. We put so much sweat and energy into the title. To say goodbye with the championship trophy is unbelievable", she said. "For me, the value of this title comes just behind the 2007 World Cup title. This is the perfect ending."
Women's football at Bayern Munich
Bayern Munich have operated a women's football team since 1970 and won their first women's championship in 1976, back when a regional competition was concluded with a final tournament. Following the introduction of a two-track Bundesliga in 1990, Bayern were relegated in 1992 and didn't return until 2000. But they to wait until 2014-15 and 2015-16 for back-to-back titles.
Recently, new Bayern Munich president Herbert Hainer had promised additional support and funding for the women's team in response to the threat from Wolfsburg domestically and the English Women's Super League (WSL) abroad.
"The championship would be the crowning moment and the deserved reward for the path we have taken, continually strengthening the team to establish ourselves at the top in Germany and internationally," Hainer told Munich's Tageszeitung newspaper ahead of the final game of the season.
Indeed, at international level, Bayern still have work to do after being beaten 5-3 on aggregate by Chelsea in the Champions League semifinal this season, despite a first leg victory and a respectable performance. They also exited the German Cup at the semifinal stage, losing 2-0 to Wolfsburg.
"We are only halfway into our four-year plan and we will keep investing," promised Hainer, highlighting the signing of Japanese World Cup winning midfielder Saki Kumagi from Olympique Lyon ahead of next season.
"In order to promote women's football in German more generally and remain competitive internationally, we desperately need to work on structures," he added. "We need better infrastructure and a more professional general organization."
Three German clubs in the Champions League?
Bayern who as Bundesliga winners have qualified directly for the group stage of the Champions League, could be joined by two other German teams. Second-placed Wolfsburg will have to get through one qualifying round to get there, while third-placed Hoffenheim will face an additional round. Key to Hoffenheim's success this season was Austrian striker Nicole Billa whose 23 goals made her the league's top scorer.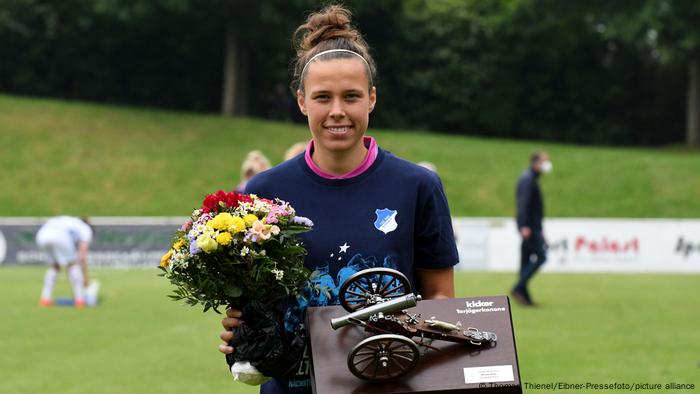 Nicole Billa's 23 goals were good enough to earn her the Bundesliga's goal-scoring title
Duisburg and Meppen go down
Down at the bottom of the table, Duisburg's fate had long since been sealed going into Matchday 22. Once one of Germany's most successful women's teams (as FCR Duisburg), MSV failed to truly unleash their potential over the past few years. Now they about to embark on a major rebuild, with 16 players set to leave the club.
"They have a sponsor who wants to invest money and provide some know-how. If the club manages to win promotion on first attempt, a year in the second division may even be beneficial in terms of rebuilding the structures," said coach Thomas Gerstner, who is also on his way out the door.
While Duisburg had already been resigned to their fate by Sunday, SV Meppen were still in with a chance of survival – before a 5-0 defeat at Freiburg made them the second team to be relegated – on 14 points.
"We will now continue down our path in the second division," SV Meppen said in a statement. "The many experiences will help us tackle our mission of winning promotion. We thank everyone who supported us and believed in us. Sorry that we could not pay you back."
SC Sand, on the other hand, managed a 1-0 win over Leverkusen to take their total to 18 points – good enough to keep themselves in the Bundesliga in 2021-22.
Jena, Cologne secure promotion
Next season, the women's Bundesliga will be joined by two new teams; FC Carl Zeiss Jena gained promotion from the northern division of the second tier, while Cologne, who dominated the south after having been relegated at the end of last season, are also on their way back.