Captaining the German national team is the next logical step in the successful career of Bastian Schweinsteiger. The Bayern Munich midfielder is one of those players that has always taken on responsibility on the pitch, and has never shied away from pain or injury.
"I have always been able to rely on him," said Germany coach Joachim Löw in Tuesday's press conference. "Just look at how he performed for us in the World Cup in Brazil and in the final against Argentina."
On July 13, as Germany was fighting for the World Cup trophy against Argentina in the Maracana stadium, Schweinsteiger showed his mettle. After being caught by an elbow to the face, Schweinsteiger began bleeding from under his eye and had to receive treatment on the field. Löw asked Kevin Großkreutz to warm up on the sideline, assuming he would soon have to make a change.
But Schweinsteiger fought through the pain, got stitched up and played on. The rest, as they say, is history.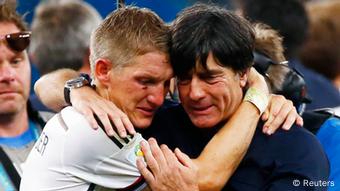 Coach Löw and Schweinsteiger have a close relationship
In fact, Schweinsteiger has been written off many times during his career. Yet he always returns, demonstrating strong form too. Nevertheless, bad injuries have slowed down the Bavarian-born player.
Last season he missed a number of games with a niggling ankle injury. Before the World Cup, Schweinsteiger was plagued by a knee injury that hindered his preparation so much so that he started the tournament on the sidelines.
But his morale wasn't dented by his setbacks. "If things go as they should then in four years I should be able to play another World Cup," Schweinsteiger said in Brazil. Now, it seems, the European Championships in 2016 in France are the goal. After all, Schweinsteiger still hasn't won a European Championship.
Basketball and skiing
The devoted basketball fan is close friends with German basketballer Steffen Hamann and often goes to the home games of Bayern Munich's basketball team. The 30-year-old loves nothing more than shooting a few hoops in his spare time.
But it was skiing where Schweinsteiger first showed potential to be a professional athlete. Growing up he trained and travelled with top German skier Felix Neureuther. In 2001 he had to call it quits.
"I enjoyed both sports, but then came the offer from Bayern Munich and I just had a gut feeling it was right," said Schweinsteiger in an interview in 2006.
"Football was so popular, and skiing was never like that. Carrying those skis around was annoying too," Schweinsteiger said back then.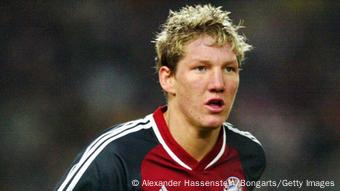 Bastian Schweinsteiger started his Bayern career aged just 18 years of age
It's fair to say that his career choice was the right one. At Bayern, Schweinsteiger's won both the Bundesliga title and the German Cup seven times. In 2013 he won the Champions League and the FIFA World Club Championship and in the same year he was voted Germany's footballer of the year. The World Cup victory this summer was the icing on the cake.
A long career
Schweinsteiger first played for Bayern's first team aged just 18. He's racked up more than 450 games for the club since, and made 108 appearances for the national team too. He debuted for Germany in June 2004 in Kaiserslautern, when Germany suffered a 2-0 defeat to Hungary. One year later, he scored his first goal for Germany, in a friendly against Russia.
Since then he's been in Germany's squad for all the major tournaments, from the 2004 European Championships in Portugal to the most recent, successful outing in Brazil.
Schweinsteiger is now set to convert all that experience into an official leadership role on the pitch. But he won't be leading the team out this week against Argentina and Scotland as injury once again delays Schweinsteiger's return.