The Dutch director Paul Verhoeven was selected to head the jury of the Berlin International Film Festival, also known as the Berlinale, organizers said Friday.
"With Paul Verhoeven as jury president, we have a filmmaker who has worked in a variety of genres in Europe and Hollywood," said Dieter Kosslick, director of the Berlinale.
Director of cult movies
Verhoeven started directing films at the end of the 1960s. His erotic thriller "Turkish Delight" from 1973, won him an Oscar nomination. He also received a Golden Globe for "Soldier of Orange" (1977).
After directing that film, he moved on to Hollywood and became specialized in blockbusters, including "Robocop" (1987) and "Total Recall" (1990), which both starred the famous bodybuilder Arnold Schwarzenegger. He also signed the satirical military sci-fi flick "Starship Troopers" (1997), now considered a cult classic.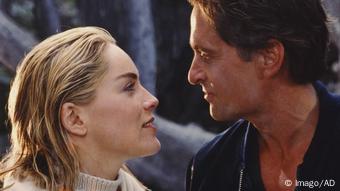 It was Sharon Stone's international breakthrough: Paul Verhoeven's "Basic Instinct"
Another one of his best-known works is the erotic thriller "Basic Instinct" (1992), starring Sharon Stone. It was one of the most successful films of the 1990s.
Back in Europe with 'Elle'
This year, the filmmaker directed a French-German-Belgian co-production called "Elle." It stars French actress Isabelle Hupert in the role of a businesswoman who gets raped and decides to stalk her unknown assailant. The film has been nominated for the European Film Awards in three categories.
Last year's jury was headed by Meryl Streep. The Berlinale is always the first major European film festival to take place every year. It runs from February 9-18, 2017.
eg/kbm (AP, AFP)