"It almost came to blows. The tourists had been partying since 2 p.m., and when the neighbors asked them to turn down the music, things got tense. Fortunately, the police showed up in time and nothing happened." Journalist Anabel Herrera recalls how the tourist flat on her building's first floor grew from a nuisance to a nightmare. "When we visited the flat, the real estate agent told us about the tourist flat two floors below, but we really couldn't imagine it would drive us this mad," Herrera told DW.
Herrara describes how the situation is gradually spiraling out of control. "They come for festivals, bachelor parties or simply drinking cheap. Other times they bring prostitutes," she said. The tourist apartment is legal, and has a 24-hour hotline to contact the agency in case of excessive noise or antisocial behavior. "Sometimes they ignore us. Other times they come, but after they leave the party starts again. I work from home, so how can I do anything with parties going on outside my window every day?"
Read more: Bye-bye locals: Europe's cities sound alarm
Last June, a survey by the local government revealed that Barcelona's locals thought tourism was the main problem in the city, outranking other issues such as unemployment. The poll outcome has come as a shock to many, but not to the city dwellers. The problem has been making the rounds on the streets of Barcelona for years.
Indeed, when the current local government came into office in 2015, one of its first measures was to install a moratorium on all new hotel licenses. Two years later, the rule has evolved into a permanent ban on new hotels downtown, even if existing establishments close down. This is part of a strategy to force new hotels to the outskirts of the city.
Reprisals for tenants
For many locals, changing the hotels' location is not enough. Resident associations claim that hotels have been replaced with tourist apartments (legal and illegal). Daniel Pardo a member of "Ciutat Vella (Old Town) Is Not For Sale," a grassroots neighbor association, says that noise complaints are a secondary problem of short-term rentals. "Landlords refuse to renew contracts or offer renewal for double the rent," Pardo told DW.
Read more: Barcelona fines Airbnb and HomeAway
Anabel Herrera hasn't faced a contract renewal yet, but she's aware of the problem. Her entire building belongs to the same person and that has stopped people from complaining against the noise from the first floor. "Now we are organized but before people would be afraid that the landlord would raise their rent if they complained. They spent two years living with this tourist apartment. Herrera says that if her landlord were to increase her rent as a reprisal, she would leave the building. "We feel we're being expelled from the neighborhood."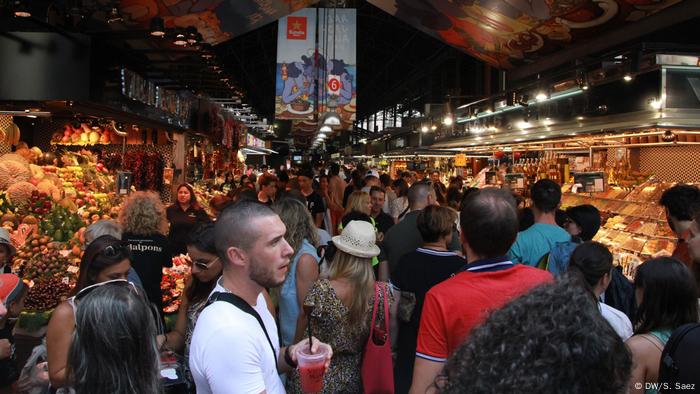 Chasing out the locals: Tourists are blighting some of the city's attractions
The problem is not confined to housing, says Daniel Pardo. "Local shops are being replaced with tourist commerce, which is totally useless for us and much more expensive, because it caters to the tourist budget. Finding a place to eat or to have a beer for a reasonable price in the city center is now impossible."
Enrique Alcántara, the president of the Association of Tourist Apartments of Barcelona, doesn't think tourism is a major predicament. "People perceive it's a problem for the city, but when they get asked about their personal concerns, their answer is different." And he's right: The same poll has tourism in 10th place when people were asked about their primary personal problems. When it gets personal, their main concern is unemployment.
"The number of tourist apartments is lower than a year ago, because the campaign to close them is working. At the same time, there haven't been any new legal licenses in the center in 10 years, so we don't think apartments are to blame for the housing crisis," Alcantara told DW. For him, the most important issue is to uproot illegal apartments, which "contribute to the black market and offer no guarantees to the neighbors." Alcantara says that less than 1 percent of all legal apartments have received complaints at the city hall.
The economic upside for Barcelona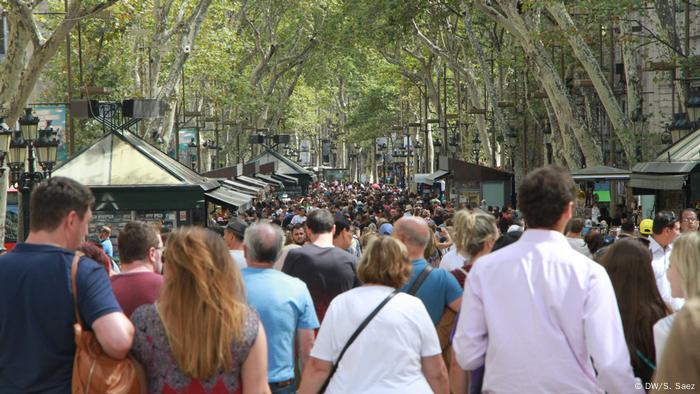 Although they generate revenue for the city, tourists are increasingly seen as a pain
Tourism, with all its downsides, is a major source of economic revenue in Barcelona. The industry represents almost 17 percent of the local GDP. According to a report by human resources provider Manpower, the sector will provide 80,000 new jobs in Catalonia in 2017, most of them in the capital Barcelona.
Martí Sarrate, president of the Association of Specialized Tour Agents in Catalonia, represents the sector at the negotiating table in the city hall. "We think that tourism is a solution, rather than a problem. There are many other sectors that are related to it, which also create jobs and wealth," he told DW. Sarrate recognizes that tourism can create "some nuisances at certain saturated points," but asks that people consider "what's best for the city, and not only for the neighbors."
Read more: Tapas tours aim to save the unique flavor of Barcelona
Daniel Pardo is not convinced. "Yes, tourism creates jobs, but which ones? And which ones got replaced by tourism? Working conditions are worsening, and the sector is very volatile. What does this mean for the city?"
For Pardo there's no room for more tourists at the moment. "I would tell anyone planning to come to go elsewhere. First, because you're involuntarily contributing to the aggravation of social problems, but also because it's not worth it. The places the average tourist manages to reach are nothing more than a theme park."