The world's best known graffiti painter "blitzed" the French capital over the last few days, leaving as many as a dozen works on walls across the city. His latest Instagram posts from Wednesday confirm that he was behind the new murals.
One of the new works appears to touch on the sensitive subject of the ban on the niqab in France. It shows Napoleon rearing his horse as he crosses the Alps to invade Italy in 1800, his face and body wrapped in his red cloak.
The pastiche of David's canvas, one of the most iconic in French 19th-century art, appeared on a wall in an ethnically-mixed district of northern Paris.
Read more: Banksy's world caught on camera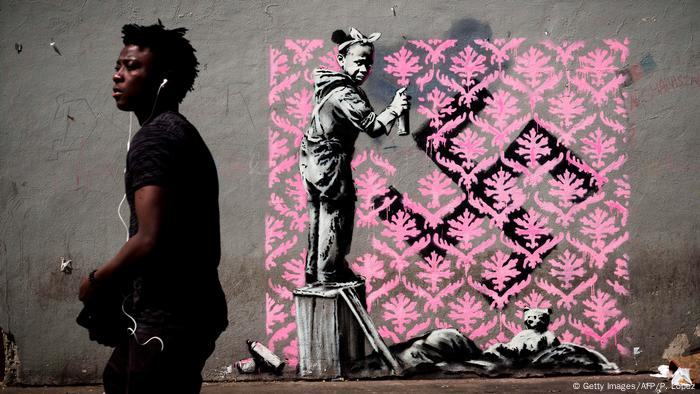 A girl painting over a swastika cross: the mural was found on World Refugee Day, near a former reception center for refugees
Banksy, a long-time supporter of the refugee cause
In another mural, a young black girl sprays a pink wallpaper pattern over a swastika on a wall next to her sleeping bag and teddy bear in an attempt to make her patch of pavement more cozy.
While this particular work was not among the images Banksy posted on his Instagram account, experts recognized the street artist's particular style.
"The color, the line, the subject and the way he has adapted the images from photos... all point to them being Banksy's style. There is a very particular signature. If [the mural of the girl] is not by Banksy, it is a very good copy," said art historian and street art expert Paul Ardenne.
The image is on a wall in northern Paris, next to an official refugee shelter that was controversially closed in March despite protests from the city's socialist mayor, Anne Hidalgo.
Read more: New Banksy mural in New York protests Turkish artist Zehra Dogan's imprisonment
France's tough anti-migrant policy has resulted in nearly 40 makeshift camps being razed in Paris in the last three years. President Emmanuel Macron is determined that the city should not become a magnet for refugees.
In that time, around 2,000 migrants, including children and teenagers, have been sleeping rough along canals and under motorway bridges. Migrants were still sleeping next to the mural on Sunday.
A few days after the mural was discovered on World Refugee Day, on June 20, it was partly sprayed over with blue paint. An art restorer has since attempted to protect the works by covering them with clear plastic.
A Disneyfied legacy of May 1968
Criticizing capitalism
A third image, on the Left Bank near the Sorbonne university, which was rocked by a student uprising 50 years ago, appeared to be a dig at the death of France's revolutionary spirit.
One of Banksy's trademark rats, his avatar for wronged ordinary people, sits under the caption "1968" wearing a Minnie Mouse bow.
The Disneyland Paris theme park just outside the French capital is now one of its biggest employers.
A fourth mural nearby took a swipe at politicians and business leaders. A man in a suit offers a dog a bone having first sawn the animal's leg off — suggesting the bone might be the canine's own.
Two more Banksy rats appeared in further images discovered this weekend, one dynamiting a road sign and another riding a popped cork from a champagne bottle.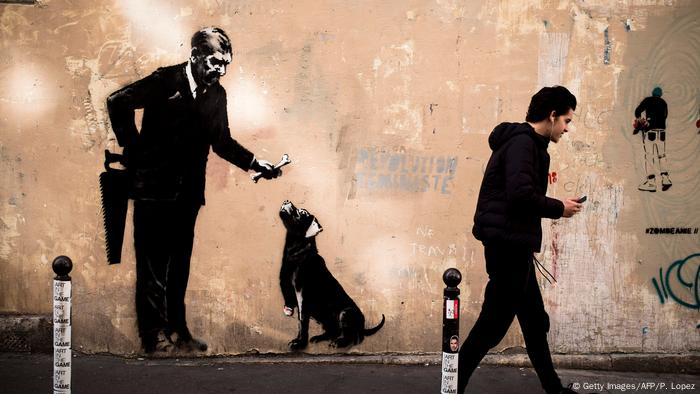 Might want to bite the hand that feeds you: This work also appeared in the center of Paris over the weekend
Another work attributed to Banksy discovered on Monday is an image of a woman veiled in mourning. It is painted next to the Bataclan concert hall, where 90 people died when "Islamic State" terrorists attacked during an Eagles of Death Metal concert.
It is seen by some as the famous graffiti artist's farewell to the city.
sh/eg (AFP, AP)