Ballack signed on a free transfer from Bayern Munich. The 29-year-old midfielder's arrival had been confirmed by Chelsea boss Jose Mourinho on Sunday.
"He believes in us, he believes in Chelsea, he believes we can have success," Mourinho said. "He chose Chelsea and we are very happy, and I think also English football should be happy to have such a player playing in the Premiership."
Ballack is expected to be the first of three big signings by Chelsea this summer. The Germany captain is expected to be followed by AC Milan's Ukrainian striker Andriy Shevchenko. Inter Milan's Adriano and Corinthians star Carlos Tevez have also been heavily linked with moves to Chelsea.
Ballack will still head the German national team
Ballack will reportedly become the highest-paid player in the Premiership on a deal said to be worth 130,000 pounds (190,700 euros, $245,700) per week. But Ballack insists that the need for a new challenge rather than financial gain was the deciding factor behind the move.
Dreaming of Champions League title
London will be Ballack's first foray outside his native Germany, something he announced he wished to experience. Born in the former East Germany, he began his professional career at division two side Chemnitz. He then went on to play for Kaiserslautern and Bayer Leverkusen before moving to Bayern Munich for 12.9 million euros in 2002 after turninng down Real Madrid.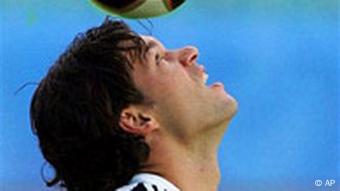 Keeping his eyes on the ball
The hope was to add to the 1998 German championship he won with Kaiserslautern and capture the Champions League crown after going to close with Bayer Leverkusen in 2002 -- when they lost 2-1 to Real Madrid in the final.
Domestic titles were forthcoming, with three league and cup doubles in four seasons (2003, 2005, 2006) but the Champions League proved out of reach and Ballack feels he has a better chance of winning Europe's flagship competition in Chelsea's colors.
"I did not win anything at Leverkusen so to win six titles in four years with Bayern shows the move was worthwhile," Ballack said. "I hope now I can realize my dream of winning the Champions League."
Chelsea have won successive Premiership titles at a canter but have come up short in the Champions League -- losing to Liverpool in the semi-final last year and Barcelona in the last 16 this season -- and Mourinho will hope Ballack can provide the final push.
Leaving a sour taste in Munich
Ballack guarantees goals from midfield and in his final season at Bayern he scored 14 league goals to help the club defend the title. On the international stage Ballack has bagged 30 goals in 63 internationals -- a record befitting of a striker -- since making his debut in April 1999.
Bankrolled by Russian billionaire Roman Abramovich, Chelsea probably paid more than 25 million euros plus for Ballack. He effectively became a free agent when he turned down a four-year contract at Bayern in September, prompting interest from Manchester United, Inter Milan and Real Madrid.
Chelsea waited in the wings and opened negotiations in January after other clubs baulked at Ballack's personal demands. Bayern accepted the player was leaving but a sour taste was left in the mouth as Ballack did not publicly say he was joining Chelsea until television pictures showed him arriving at London on Sunday.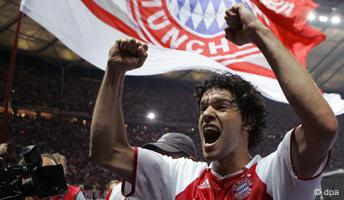 He won't be celebrating with Bayern any more
In his final games for Bayern, Ballack was jeered by his own fans and labeled a mercenary by the club management. His loss is a real blow for the 20-time German champions and German soccer who have lost their biggest star ahead of next month's World Cup.