It would be the marriage of ambition and money if it were to go through. Michael Ballack, Germany's one true superstar player and national captain, and Chelsea, English Premiership champions and soccer shopaholics, could be tying the knot sometime this summer if you read between the lines of soccer's most quoted agent Michael Becker's latest statement.
Becker, who seems to be generating as many column inches these days as his main client, issued the latest of his almost daily updates on the situation regarding Ballack's future earlier this week and fuelled the already blazing speculation that the midfielder will be heading to London as soon as the dust settles on Germany's 2006 World Cup Campaign in July.
"Nothing has been signed, but there will be ongoing contact with Chelsea. There is strong interest from both sides," Becker said Thursday. "The trend is in this direction (to move to Chelsea). Michael had initially been very keen on Real Madrid. But the leadership changes there in the last few months mean we don't know what's happening."
The fact that Madrid have also failed to collect any silverware in the past two seasons may also have something to do with it while Chelsea are reigning Premiership champions and, barring a sensational end of season collapse, will win the English league again this season.
Potential suitors discarded as title aspirations evaporate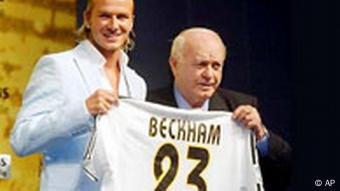 Despite big signings, Real Madrid have failed to live up to the hype
Other suitors mentioned in Becker's regular dispatches over the past six months have also apparently fallen by the wayside as their potential title-winning pedigrees have slipped from view.
Manchester United would have presented Ballack with a paltry league cup winners medal for all his efforts had he joined in the January transfer window, with Chelsea disappearing over the horizon in the championship race and the Champions League a distant memory after failing to advance from the group stage.
Barcelona, once mentioned in one breathy statement, have a wealth of midfield talent and have bigger fish at the end of their hook.
And while an Italian newspaper claimed on Thursday that Ballack's representatives had held talks with Inter Milan, Becker scotched such nonsense by reaffirming his client's public desire to win the European Cup, something Inter, he believes, are some way from achieving.
Ballack's desire to be a European Champion endures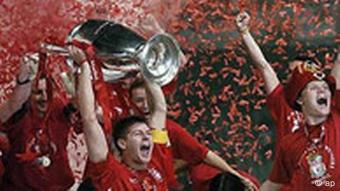 Ballack has an overwhelming desire to lift the European Cup
"Michael will continue his career with a side that will win the Champions League. He definitely will not go to Inter Milan," Becker stressed. "He would only move to a club where he has a better chance of winning the Champions League than at Bayern. Inter are currently third in Serie A, whereas Bayern are top in the German league."
So why leave at all? Bayern's dominance of the Bundesliga would give Ballack an annual crack at European soccer's biggest prize and, unless the likes of Werder Bremen, Hamburg or Schalke rein them in, the law of averages suggests that Bayern would win the Bundesliga enough times to give Ballack at least one Champions League success before he hangs up his boots.
As a professional, however, Ballack understandably wants to be at the top of the game and win the major titles not just once but consistently. While Bundesliga medals may in time force him to invest in sturdier furniture, could he really consider himself a world class player at the end of his career if he had not played abroad and captured the biggest prizes?
Chelsea's financial power borders on monopoly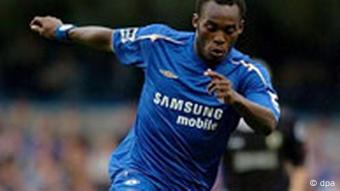 Chelsea spent 38m euros on Lyon's Michael Essien
While Ballack could be excused for being seduced by Chelsea's promise of silverware -- and an alleged 175,000 euro ($210,778) weekly pay packet – the London club's willingness and ability to sign the world's best players on a whim is causing increasing concern around Europe's leagues.
Money is no object for Chelsea – although Ballack would be able to move as a free agent in the summer as his contract expires. Clubs are finding it hard to hang onto players Chelsea covet, even harder to say no to the money they offer and harder still to compete in a transfer market in which Chelsea dominate.
The move would be a good one for Ballack and possibly the step-up he needs to become a really great player but it would also spell further bad news for Europe's other teams. Michael Ballack in the blue of Chelsea would signify that, in this day and age, no club has the financial influence to match the pulling power of Stamford Bridge.