Prime Minister Haider al-Abadi told 172 deputies from the 329-seat lower house of parliament present on Saturday that ongoing unrest in Iraqi's southern city of Basra was "political sabotage" and that "the question of public services" was being exploited for political ends.
Abadi said he had instructed security forces to "act decisively against the acts of vandalism that accompanied the demonstrations."
Officials later lifted a 4-hour curfew on Basra at 8 p.m. local time (1700 UTC) on Saturday, a military statement said.
Abadi later on Saturday faced calls to resign from the two leading groups in parliament. "We demand the government apologize to the people and resign immediately," said Hassan al-Aqouli, spokesman for Sadr.
Protests focus on public neglect
Protests first broke out in Basra in July before spreading to other parts of the country, with demonstrators condemning corruption among Iraqi officials, neglect of public services and what they say is Iran's inflated role in the country.
Read more: Iraq protests: Demonstrators in Basra storm Iran's consulate
The current bout of unrest comes as Baghdad faces political stasis, exacerbating overall tensions nationwide. Parliament earlier this week held its first session since national elections in May, but the session was adjourned because the two main blocs could not agree which was the winner.
Shiite cleric Moqtada Sadr, whose political bloc officially won the largest number of seats in May, called on Saturday for "radical and immediate" solutions at Saturday's session or step down.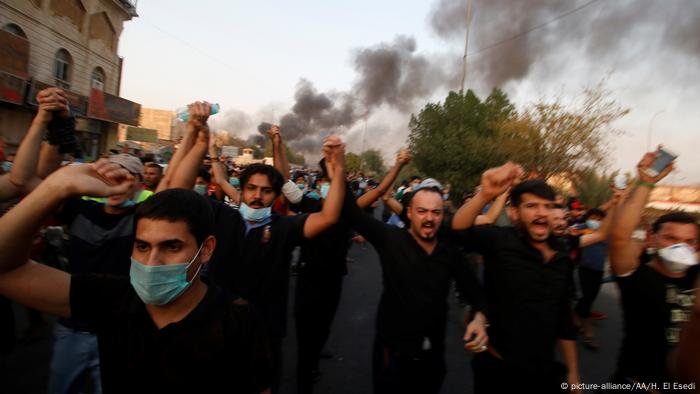 Protestors shout slogans during the funeral of a demonstrator killed in Basra
Neglect and corruption rife
Basra's governor, Asaad al-Eidani, who is also parliament speaker, said at the session that money allocated by Baghdad for Basra's depleted public services had not yet arrived.
The anger on Basra's streets is "in response to the government's intentional policy of neglect," the head of the region's human rights council Mehdi al-Tamimi said.
Iraq is still struggling to rebuild its infrastructure after decades of conflict, including an eight-year war with Iran in the 1980s, the US-led invasion of 2003 and the battle against the so-called Islamic State group.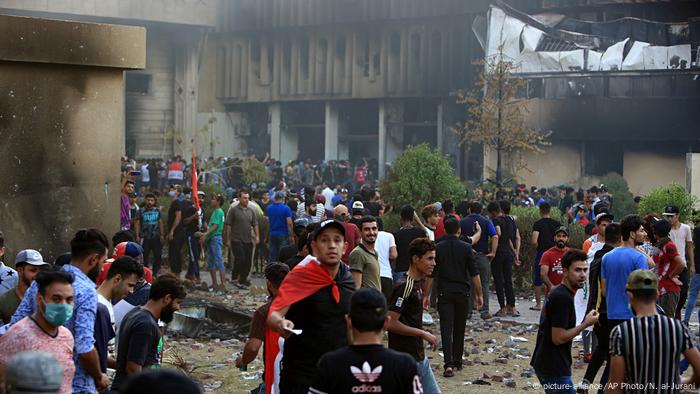 Protesters storm and the Basra Government building during a demonstration demanding better public services and jobs
More attacks
Only a few hours before parliament met on Saturday, four rockets were fired into Basra airport, security sources said. Staff at the airport, located near the US consulate in Basra, said flights had not been affected.
This week at least 12 demonstrators have been killed and 50 wounded in clashes between security forces and demonstrators, who set government buildings, the Iranian consulate and the offices of pro-Tehran militias and political parties on fire.
jbh/rc (AFP, AP, Reuters)
Every evening at 1830 UTC, DW's editors send out a selection of the day's hard news and quality feature journalism. You can sign up to receive it directly here.