In a referendum on Sunday, nearly 60 percent of Austrians voted to maintain the status quo, where men have to serve in the army for six months or in the civilian service for nine months when they reach the age of 18.
Some 22,000 young men are currently drafted into the military in this way every year.
This result makes Austria one of only a handful of European countries to maintain conscription. Most Western European nations scrapped compulsory military service in the last two decades, including France in 1996, Spain in 2001 and Germany in 2011. The United Kingdom abolished military service back in 1960.
Military service is still compulsory in five other European Union countries: Denmark, Finland, Greece, Cyprus and Estonia.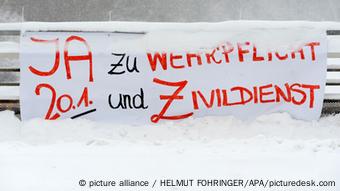 This poster reads 'Yes to military and civil service!'
There was, however, a key distinction in the way Austria decided to continue conscription, notes Henrik Heidenkamp, research fellow with the Royal United Services Institute (RUSI). "One needs to remember that this was a referendum - the public was asked how they feel about this," Heidenkamp told DW. "And in many other countries, in Germany for example, that was not the case … it was a decision based on a political judgment."
'Like a glove'
The result is a blow to the center-left Social Democrats in Austria, who had argued for the creation of a smaller, professional force, which would save money in the long run and be able to work more effectively with other European armies.
The Social Democrats are currently the larger partner in a coalition government with the center-right Austrian People's Party. The latter had argued against the change. Interior Minister Johanna Mikl-Leitner said the current system "fits Austria like a glove and is the best guarantee for all future challenges."
Opponents also feared that any change could push the country towards membership of NATO and thus force them to abandon the neutral status they've observed since the 1950s, because they would need to join an alliance to ensure their own security. Heidenkamp rejects this idea:
"If there really was a significant situation or threat of territorial integrity, today even with conscription there would be no way that Austria could defend itself without strong partners - NATO partners, European Union partners."
Generational divide
Many voters were apparently swayed by warnings from health organizations and charities, which had said they would not be able to cope without the 14,000 young men who opt to carry out community service each year.One of them was Alfred Körbel, a 74-year-old from Vienna.
"Civilian service is very important for our society," he told DW. "Organizations like the Red Cross and other health care providers would not be able to keep going without such support."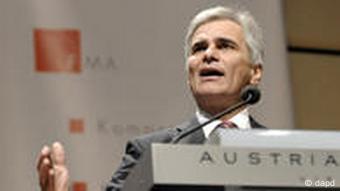 Chancellor Werner Faymann wanted to scrap conscription
There was a big generational gap in voting trends, with older people more likely to support conscription. Heidenkamp explains that there was "a blend of different motives" that led to the outcome in favor of conscription.
"You have the older generation who went through that themselves, who have quite a positive perception of what conscription can offer to the public ... And then you have the younger generation and some of them may just say 'hey, it's a good opportunity.'"
But Heidenkamp believes that the Austrian government should not be afraid to reform the system:
"Given the fact that [the public has] voted in favor of conscription, I think it's now crucial that [the government] needs to reform their current concept. I mean basically they cannot stick to the six months if they really want to have an approach to conscription that is modern enough to fit the strategic framework that we're talking about."