Wearing red house shoes, Inge Deutschkron flits quickly through her huge apartment in Berlin-Charlottenburg. Book shelves and old black-and-white photos adorn the walls and the scent of fresh flowers fills the rooms.
"I wish the days were twice as long," she says, running her fingers through her short hair.
From book projects to talks in schools and lectures all over the world, her schedule is chalked full and she's not even thinking about cutting back.
"Ninety isn't old," she says with a laugh.
Slow death of freedom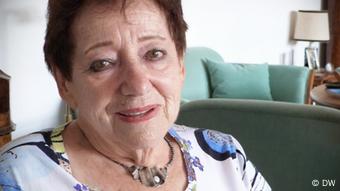 Inge Deutschkron, 90, witnessed the horrors of the Holocaust
Inge Deutschkron is among the most significant survivors of the Holocaust and making sure the tragedy is not forgotten has become her life goal.
She grew up in Berlin as the daughter of social democrats. Her father was a teacher. "We weren't religious at all," she recalls. "It wasn't until 1933 that I even realized I was Jewish." When the Nazis came to power, her schoolmates began avoiding her and calling her a "dirty Jew."
"Our freedom was taken from us piece by piece," she says. "First, we weren't allowed to use public transportation. Then we were forbidden from going out after 8 p.m. Little by little, we had to give up everything we had."
Her father was suspended from his teaching position. Nevertheless, like many older Jews at the time, he found it difficult to accept the severity of the situation. "He felt German; he had fought for his country in World War I and believed for a long time that Hitler was just a harmless idiot," recounts Deutschkron.
The Night of Broken Glass, the fateful pogrom in 1938, opened his eyes. "Synagogues were burning everywhere, and the Jews were finally declared fair game," Deutschkron describes the night of November 9.
Shortly thereafter, her father managed to emmigrate to England. His wife and daughter were supposed to follow him, but didn't manage to get out of Germany in time. They saw their friends deported and murdered.
The quiet heroes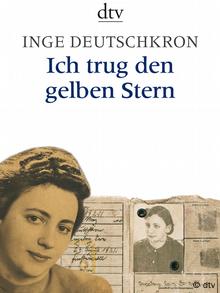 Inge Deutschkron's autobiography, 'I Wore the Yellow Star'
Inge Deutschkron and her mother managed to survive because of the courage of others. "They were gentiles, simple craftspeople, retirees," she says. "They couldn't stand the barbarism and risked their lives to save ours."
Some 1,700 Berlin Jews survived the Holocaust thanks to these "quiet heroes," as Deutschkron calls them. It was this goodness that later helped her reconcile with Germany, the country of the perpetrators.
After the war ended, she went to England, and then Israel. In 1955, as a political correspondent for the Israeli newspaper Ma'ariv, she came to Bonn on assignment.
"It was the Adenauer period," she recalls, referring to Germany's first post-war chancellor, Konrad Adenauer. "Former Nazis were working in all the ministry and government offices. One even told me, grinning, that times had changed and I should forget what happened."
The courage to remember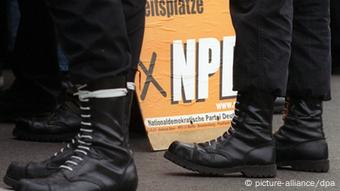 Right-wing extremism still poses a threat in Germany, Deutschkorn warns
But that is exactly what Inge Deutschkron cannot and does not want to do. She wrote about her experiences under the Nazi regime in her autobiography, "I Wore the Yellow Star;" in her book, "My Life after Survival," she described Germany's struggle with taking responsibility.
In addition, she founded the organization Blindes Vertrauen (Blind Trust) to counter discrimination. Deutschkron has received numerous awards for her work, including the prestigious Moses Mendelssohn Prize.
She places particular emphasis on dialogue with young people and shares her story in schools. The pupils are always very curious and ask dozens of questions, she says.
This curiosity is a shimmer of hope for Deutschkron. "Such a catastrophe can happen any time," she warns, pointing to the newspaper on her desk. "Three young right-wing extremists from Zwickau murdered foreigners in Germany for years - and the police didn't know about it," she points out, referring to a case that was uncovered last year.
But she's not about to give up - not even at 90. To fight inhumanity, she says, you must have the courage to remember.