The German government wants to make it easier to deport people back to Algeria and Morocco. The Ministry of the Interior has instructed the Federal Office for Migration and Refugees to prioritize asylum applications from the two countries. The idea is that new arrivals from those two countries who do not have the right to asylum can be returned to their homelands more swiftly. Bavaria and Baden-Württemberg have already started to accommodate Algerian and Moroccan asylum seekers in "repatriation centers," where they will stay until a decision is made about their application.
Number of applications rising
This is the federal government's response to demands that it take tougher action against failed asylum seekers from the two countries. For days now German politicians, especially from the conservative parties, have been calling for Algeria and Morocco to be defined as safe countries of origin. On Monday the leadership of the Christian Democrats (CDU) added its voice to this demand. The party's general secretary, Peter Tauber, said that it expected its Social Democrat coalition partners to join it in supporting the suggestion.
However, also on Monday, government spokesman Steffen Seibert dodged the question of how the two countries should be categorized. "We will discuss with our European partners whether such a categorization is feasible," he said. Expanding the list of safe countries is, in any case, a parliamentary matter, and any change would have to be approved by both houses.
The number of asylum seekers from the two North African countries has risen sharply in recent months. In June 2015 there were 1,215 applications from Moroccan and Algerian citizens; by December 2015 the number had risen to 5,192.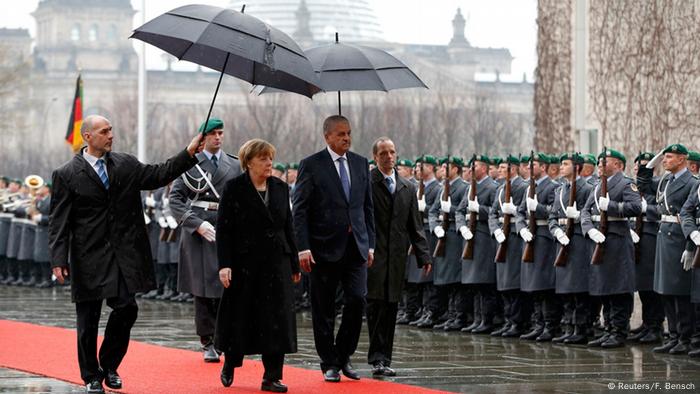 Algeria's Prime Minister Abdelmalek Sellal visited Berlin in January
Nonetheless, neither country makes the list of the top ten most common countries of origin. The fact that there is currently such intense discussion about asylum seekers from this region therefore has less to do with numbers than the events of New Year's Eve in Cologne and other cities. According to the police, there are many Moroccan and Algerian citizens among the suspects believed to have been involved in the thefts and sexual assault of women that night.
Safe repatriation
If a country is declared safe, applications from there may be processed more quickly. There would no longer have to be a hearing for each individual case. Rejections would be easier to justify.
Both Algeria and Morocco have a repatriation agreement with Germany. However, if asylum seekers do not have valid identification documents, the embassies often deny responsibility or say that they are not able to issue new ones. The German government is therefore keen to persuade the embassies to simplify things.
One idea under discussion is for European authorities to issue EU "laissez passer" papers to failed asylum seekers – a kind of ersatz passport. To date, neither Algeria nor Morocco will recognize these papers. They require proof that the rejected asylum seeker is indeed a citizen of their country.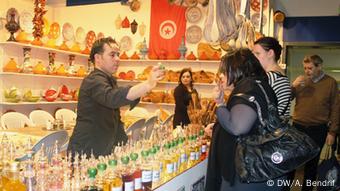 Morocco was country partner for January's 'International Green Week' in Berlin
Tense security situation
Furthermore, some contend that it is not justifiable to categorize the two states as safe third countries. In Algeria in particular, state repression is a part of daily life. The human rights organization Amnesty International's report on the country in 2015 said that public protests were usually forcibly broken up, while media, organizations and activists who were critical of the government were prevented from going about their work.
The security situation in Algeria is also tense. Terrorist attacks and abductions, including those involving foreign citizens, are a frequent occurrence. There are several Islamist groups operating in various parts of the country, including one that has declared allegiance to IS.
In Morocco, the political and economic situation is more stable. The media can report with greater freedom. Nonetheless, peaceful protests are sometimes forcibly brought to an end, and critics and demonstrators condemned in unfair court proceedings, according to the 2015 country report from the organization Human Rights Watch.