Berlin moved Sunday to ease fears that open its labor markets to eastern European workers will put a strain on Europe's biggest economy and its workers by promising stepped-up checks on possible wage dumping and illegal employment.
"At least 100,000 people from eight eastern European countries will come here every year," German Labor Minister Ursula von der Leyen told the Bild am Sonntag newspaper, but she stressed that those arriving would not be a drain on Germany's welfare state.
"The vast majority will be young, educated and mobile workers," von der Leyen said.
Workers from Poland, Hungary, the Czech Republic, Slovenia and Slovakia as well as Estonia, Latvia and Lithuania can all look for jobs in Germany without any restrictions beginning May 1.
However, labor unions have raised concerns that an influx of cheap labor could lead to wage dumping and are calling for the introduction of a general minimum-wage agreement.
More oversight
Von der Leyen promised to make sure that new workers were paid a fair wage and that they were properly registered.
"We're going to implement increased controls, especially in the fields of construction, custodial work, caretaking and gastronomy," she said.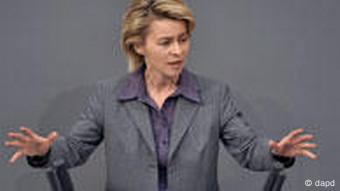 Von der Leyen has promised to ramp up efforts to investigate illegal employment
To make the increased checks possible, the finance ministry is hiring more staff, according to German Finance Minister Wolfgang Schäuble.
"For this year we've created an additional 150 jobs for the financial control of illegal work," Schäuble told the newspaper, adding that 100 new positions will be created in both 2012 and 2013.
Germany and Austria were the last among the European Union's 27 members to maintain restrictions on foreign EU workers. They imposed seven-year "transition periods" to restrict foreign workers' access to their labor markets.
Austria is also opening its borders to foreign EU workers, as is Switzerland, which is not an EU member.
Author: Sarah Harman (dpa, AFP)
Editor: Kyle James