Born in 1939 in Recklinghausen, in the Ruhr area, Rosemarie Koczy had been living in the US since the mid-1980s until her death in 2007.
The artist presented herself as a Jew who had survived two concentration camps, as she claimed in her memoir published in 2009.
However, through an exhibition of more than 100 of her works bequeathed to the city of Recklinghausen, historians have raised doubts about her life story, as initially reported by German public radio broadcasters Deutschland Funk and WDR on November 8.
Read more: French court orders return of WWII-looted Pissarro painting to owner's family
Different documents prove forgery
Her family's name does not appear in the list of Jews who were deported from Recklinghausen, said the director of the city's archives Matthias Kordes.
Her birth certificate was also found, he explained, and it indicated that her parents and grandparents were Catholics — and not Hungarian Jews as she claimed. "She also had a Catholic baptism," Kordes added.
The artist further claimed to have been deported to the Traunstein concentration camp, one of Dachau's subcamps. "That camp was exclusively for men. There weren't any children there," the archive director pointed out.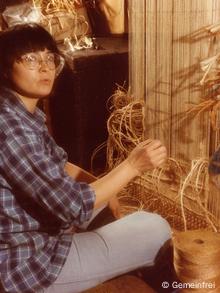 Rosemarie Koczy in 1978
The director of the Kunsthalle Recklingausen museum, Hans-Jürgen Schwalm, defended the artist's reputation. "She left behind a serious body of work," he said. She was successful in the 1970s, but never profited from her false identity, which she first began to publicize in the 1990s, the museum director added.
No one knows what drove her to portray herself as a Holocaust victim, Schwalm added.
Read more: Gerhard Richter's divisive Holocaust art comes to Bundestag
Her Holocaust memorials in the collections of major museums
Works by Rosemarie Koczy are part of the collections of the Guggenheim Museum in New York as well as Yad Vashem's, Israel's official memorial to the victims of the Holocaust. Her works are however not part of Yad Vashem's permanent exhibition nor are they currently on display.
"Her works are part of the Yad Vashem Art Collection which contains art created before, during and after the Holocaust by Holocaust victims, survivors and artists who felt inclined to relate to the Shoah," spokesperson Simmy Allen told DW in a written statement. "Regardless of Koczy's contested status as a survivor, her art is a response to the Holocaust and the works continue to be relevant to our collection which is where they shall remain."
Read more: Israel's Yad Vashem honors first Arab as 'Righteous Among the Nations' for heroism during Holocaust
Ink drawings from her series "I Weave You a Shroud," which pays tribute to Holocaust victims, are at the center of the current exhibition at the Kunsthalle Recklingausen. It is on show through November 19.
Georg Möller, historian and Recklinghausen city councilor, started suspecting her forged identity after he initiated an online memorial book. His research led him to find out that Rosemarie Koczy had a difficult childhood in a dysfunctional family, spending periods in a children's home in Münsterland.
Experts publicly discussed the impact of the artist's forged memoir on November 8 in Recklinghausen.
Yad Vashem said it will study the issue pertaining to Koczy's identity and determine what actions need to be taken to accurately reflect any findings.
Following the reports, Koczy's widowed husband, Louis Pelosi, has contacted the historians who uncovered the information; he rejects all claims of falsification in his wife's memoir.