For Kizza Besigye, leader of Uganda's opposition Forum For Democratic Change (FDC) and vocal critic of the recent elections, time is running short.
Under Ugandan electoral law, candidates have ten days to contest the outcome of an election once a winner has been declared.
On February 20, Presidential Yoweri Museveni was proclaimed the winner of the presidential election, defeating Besigye by 61 percent to 35 percent of the vote.
Besigye therefore has until March 1 to challenge the outcome. But obstacles have been put in his path: he has been under house arrest for a week.
"I have been a prisoner, the party headquarters has been in a similar situation, our agents are still in prisons making it difficult for us to assemble the kind of evidence we need in a petition," he said in a telephoned press statement.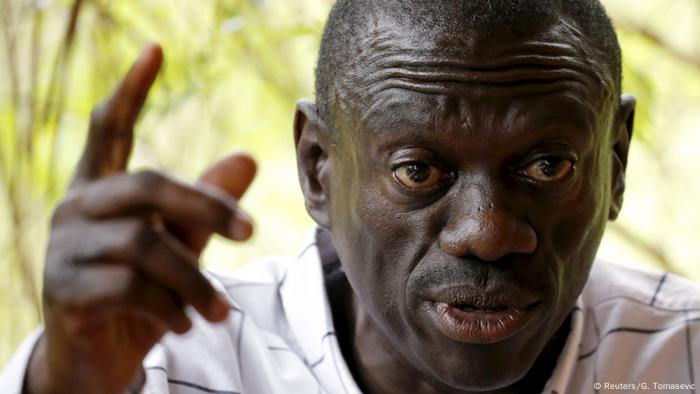 Kizza Besigye has been under house arrest for a week. He was detained many times before the elections
On Friday (26.02.2016) over 200 opposition FDC figures were detained across Uganda. The FDC is "in a big crisis," party lawyer Yusuf Nsibabi said.
Some of those detained had crucial polling materials in their possession that could be used as evidence in a possible court case, others were party supporters picked up from regional offices.
A police spokeswoman said police operations against suspected criminals were underway on Friday but denied the opposition was being targeted.
Besigye said before the election he did not believe voting would be free or fair. On polling day, voting was marred by delays in the delivery of polling materials to areas seen as opposition strongholds. There were some incidents of violence as well as a government shutdown of social media.
'Soft and hard means'
Besigye has rejected the official vote count as fraudulent and called for an independent audit. He has called for a campaign of civil disobedience over vote fraud allegations and his continued detention at home.
Museveni denies allegations of vote fraud and has vowed to "use both soft and hard means" to stop street protests against his victory.
Kampala police spokesman Fred Enanga said Besigye was under house arrest because he actions were unlawful. "Hooligans within the city" were being mobilized, the police spokesman said.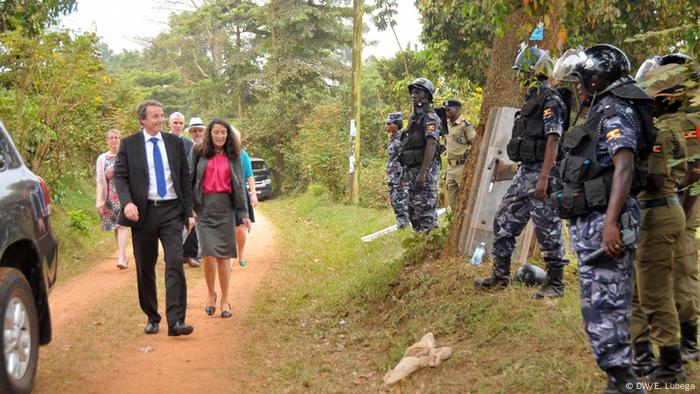 EU envoy to Uganda, Kristian Schmidt, and other western diplomats walk past the residence of Kizza Besigye
Amama Mbabazi, another candidate in the February 18 presidential elections, said Museveni was trying to browbeat critics into submission.
"Intimidation, arresting people like that, will not silence democracy," he said.
Mbabazi's movements were also briefly restricted. He served as prime minister under Museveni until two years ago when he was sacked for nurturing presidential ambitions.
Many Ugandans are worried that a protest movement similar to the one that followed the last election in 2011 could end in a massacre. At least nine people were killed in April 2011 during street clashes between Museveni's forces and supporters of Besigye, according to Human Rights Watch, which said none of the perpetrators had been convicted.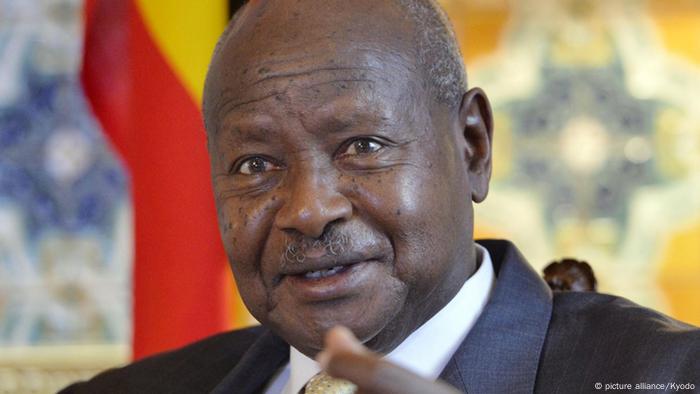 Museveni swept to his fifth election victory but observers say the cards were heavily stacked against his opponents
Besigye has said he will challenge the outcome of the election in court once he has been released from detention.
The European Union observer mission said the Ugandan presidential election was marked by an "intimidating atmosphere" mainly created by the government, and added that Uganda's election commission lacked independence and transparency.