Tens of thousands of opposition supporters have taken to the streets of the Armenian capital, Yerevan, calling for former President Serzh Sargsyan to step down as prime minister and demanding fresh parliamentary elections.
Armenia has been rocked by protests over the past week after Sargsyan signaled his intention to become premier despite serving two terms as president. On Tuesday, Armenia's parliament swore him in as prime minister under a new parliamentary system, making him the country's most powerful official.
Sargsyan served briefly as prime minister in 2007, was elected president in 2008 and this week became prime minister again. In 2015, a referendum transferred power from the president to the prime minister.
Some protesters clashed with police while trying to block streets and stage sit-ins. At least 230 people were arrested, according to police figures.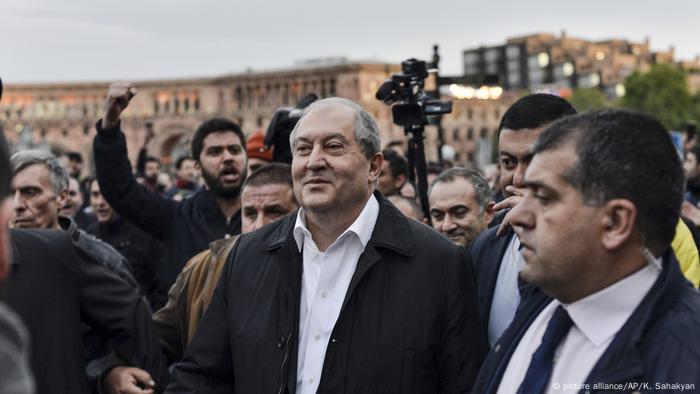 President Armen Sarkissian met briefly with MP Nikol Pashinian among thousands of protesters in Republic Square
Call for dialogue
Armenian President Armen Sarkissian, who is not related to the prime minister, met with protest leader MP Nikol Pashinian in Yerevan's Republic Square as thousands demonstrated, but Armenian news website news.mn reported that reporters were unable to hear the discussion between the two men.
Prime Minister Sargsyan earlier called for immediate dialogue with the protesters. "I'm deeply concerned by political developments in the country and call on Pashinian to start a political dialogue in order to avoid irreversible losses," Sargsyan said in a statement. "It should be done immediately."
Pashinian, who has led the protests, rebuffed Sargsyan's offer of dialogue, saying he was only prepared to discuss the prime minister's resignation.
"We are only ready to discuss the conditions of his departure," news agencies quoted Pashinian as saying after Sargsyan called on the opposition to enter into talks with authorities.
'Velvet revolution'
Other demonstrators held up placards reading "Sargsyan is a dictator," chanted slogans such as "Make a stand, say not to Serzh" and waved national flags. Decrying government corruption, one protester said she wanted a "free, fair Armenia, where there's decent education and plenty of jobs."
Read more: Eurasia's fault lines move between sovereignty and democracy
"The whole world can see that this is a people's velvet revolution, which very soon will be victorious," opposition leader Nikol Pashinian told protesters. "Sargsyan himself is a political corpse and one does not conduct a dialogue with a corpse."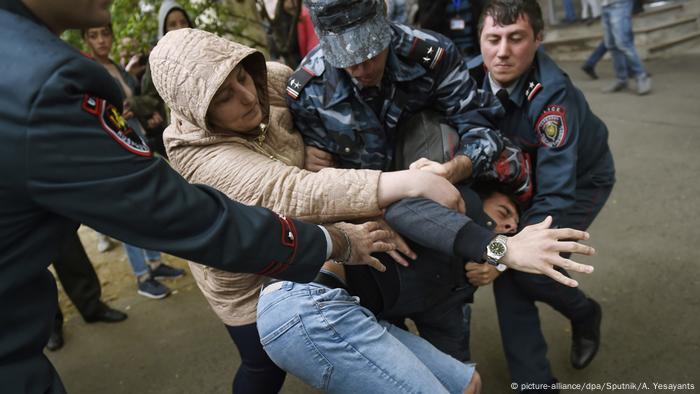 Earlier this week, police warned protesters against disrupting public order
Holding on
Sargsyan came to power in 2008, when he won the presidential election. However, the results triggered mass protests and deadly clashes with authorities.
Since assuming office, he has managed to balance a pro-Kremlin foreign policy with closer ties to the EU. Analysts have said his transition to the prime minister's office mirrors similar moves by political leaders in other former Soviet countries.
Read more: Uncertainty, competition mark the space between the EU and Russia
"Obviously, this is a mechanism that allows Armenia's current ruling elite to stay in charge," said Thomas de Waal, a senior fellow at the Carnegie Europe think-tank. "It's a familiar tactic in the post-Soviet space, where leaders endlessly tinker with their constitutions to perpetuate their power."

aw, ls/jlw (Reuters, AFP)
Each evening at 1830 UTC, DW's editors send out a selection of the day's hard news and quality feature journalism. You can sign up to receive it directly here.