Armenian security forces clashed with protesters after Prime Minister Serzh Sargsyan walked out of a meeting with opposition leader Nikol Pashinian on Sunday. Hours later, police arrested Pashinian, who is also an Armenian lawmaker.
The failed meeting came after tens of thousands of people staged daily mass protests for more than a week against Sargsyan's attempt to maintain his grip on power.
Read more: Tens of thousands call for PM Serzh Sargsyan to step down after 'power grab'
How the live broadcast meeting went down
Opposition leader Pashinian told the prime minister: "I came here to discuss your resignation."
Prime Minister Sargsyan replied: "This is not a dialogue, this is blackmail; I can only advise you to return to a legal framework ... otherwise, you will bear the responsibility."
Pashinian: "You don't understand the situation in Armenia. The power is now in the people's hands."
Sargsyan: "A party that scored 8 percent in [parliamentary] elections can't speak on behalf of the people."
Sargsyan then walked out of the meeting room in Yerevan's Marriott hotel.
Police at first denied, but then confirmed, an opposition report that Pashinian had been arrested.
Read more: Armenia's protest leader to meet PM Serzh Sargsyan to talk 'transfer of power'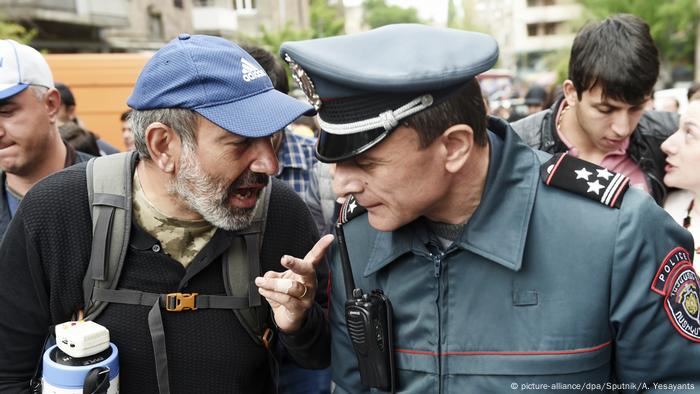 A lawmaker and former journalist, Nikol Pashinian (left) has been leading the protests
Prisoners 'must be released'
The EU's foreign service urged authorities to exercise restraint against protesters and figure out a peaceful way forward, saying it is "of utmost importance."
"All those who have been detained while exercising their fundamental right of assembly in accordance with the law must be released immediately," the EU's External Action Service said in a statement.
Read more: Uncertainty, competition mark the space between the EU and Russia
Deepening crisis: The clash between the premier and opposition leader will likely deepen a political crisis that has gripped Armenia since a controversial referendum in 2015 that shifted the political system to a parliamentary republic. Opposition protesters had hoped the meeting would have contributed to a political solution to the impasse.
Why are protesting? Critics of Sargsyan are upset that he was elected prime minister, despite already serving 10 years as president for two terms. Before taking on the premiership, Sargsyan worked to hobble the position of president into a largely ceremonial role, transferring all its important political functions to the prime minister.
Read more: Armenia: Armen Sargsyan elected into new, less powerful presidential role
Widespread protests: Crowds of up to 50,000 people have spent the past 10 days protesting in the cities of Yerevan, Gyumri, Ararat and Artashat. Police have detained hundreds of protesters for violating public order.
The election results: Sargsyan was sworn-in by lawmakers on Tuesday under a new parliamentary system after leading the landlocked South Caucasus nation of 2.9 million people for a decade.
aw/ng (AFP, AP, Interfax)
Each evening at 1830 UTC, DW's editors send out a selection of the day's hard news and quality feature journalism. You can sign up to receive it directly here.