Former Argentine President Cristina Kirchner was formally charged with money laundering and running a criminal association related to real estate dealings, the country's Judicial Information Service said on Tuesday.
Kirchner, who served as president from 2007 to 2015, already faces trial in a separate case for alleged financial mismanagement in office.
It is the fourth set of criminal charges to beset the former president. Judge Claudio Bonadío said Kirchner was criminally responsible for being part of an illicit association, which she headed, and involved in laundering assets of illicit origin. The charges were aggravated by the fact that Kirchner was a government official and was involved in negotiations incompatible with her position as president, the judge said.
A family affair
Also charged were Kirchner's two children, Florencia and Maximo, who is currently a member of congress. Businessmen Cristobal Lopez and Lazaro Baez were also prosecuted as head of a company set up by the Kirchners which owned several hotels in Santa Cruz province.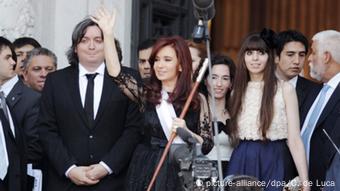 Kirchner and her children Maximo (left) and Florencia (right) in 2015
The judge issued a travel ban for the five accused and ordered about $8 million (7.5 million euros) worth of Kirchner's assets to be frozen. The five were obliged to hand over their passports.
Kirchner has already been charged in separate cases for paying bribes and corruption related to lucrative government contracts for Baez, a construction businessman and friend of the Kirchner family. He is in jail pending trial.
Baez became the largest public works contractor in Santa Cruz province. A former bank cashier, he was found by the police investigation to have become the owner of hundreds of properties, vehicles and other assets.
'Political magistrates'
Kirchner also faces trial for defrauding the state by ordering the central bank to sell dollar futures at low prices, leading the state to lose billions of dollars.
She denies the charges and says the cases are politically motivated by center-right President Mauricio Macri, who won elections in November 2015, ending 12 years of rule by the Kirchners.
A month ago Kirchner was summoned to appear before Judge Bonadío in Buenos Aires, but she refused to be questioned. Instead she presented a legal brief stating she was the victim of a "political-magistrates" operation to discredit her and her family, sponsored by the current president.
Last weekend, the ongoing investigation into the case around Kirchner found that she owns an additional 14 houses in Santa Cruz that were never declared to the tax office or the anti-corruption office.
cw/jm (AFP, AP)