Under the banner "Love Both Vote No," people gathered in the Irish capital's Merrion Square on Saturday ahead of a vote to liberalize some of the most restrictive abortion laws in Europe.
Demonstrators held up banners reading "Compassion for both" showing a mother and baby, "There's always a better answer than abortion," and "No abortion on demand."
'Not just a women's issue'
One of the speakers at the rally, Bernadette Goulding, said her own decision to have an abortion when she was living in the UK had left her with an endless nightmare of guilt, shame and no self-esteem, reported Irish state brodcaster RTE.
Goulding, who runs who runs a support group for women who have been through an abortion and regret their decision, said that abortion is not just a women's issue and that "for every abortion there's a man who is deeply wounded in his heart," RTE said.
Read more: Ireland confirms date for referendum on abortion law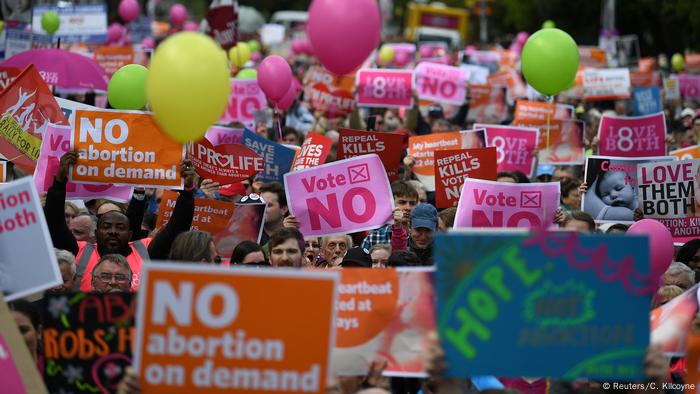 Sea of banners at the anti-abortion rally in Dublin on Saturday
The mother of The Cranberries late singer Dolores O'Riordan told the gathered crowd her daughter was "completely opposed to abortion." Eileen O'Riordan said all of her family would be voting no.
Doloros O'Riordan in 1995 spoke about the topic during an interview with Rolling Stone, saying she was in no position to judge other women. "It's not good for women to go through the procedure and have something living sucked out of your bodies," she said. "Every time a woman has an abortion, it just crushes her self-esteem, smaller and smaller and smaller."
What is 'the 8th'?
Voters will decide on May 25 whether to repeal the Irish constitution's eighth amendment — a 1983 restriction on abortion — and allow the parliament to legislate for abortion — a yes/no question on whether this part of the constitution should stay or go. The proposals are to allow abortion without restriction for up to 12 weeks into pregnancy.
After 12 weeks there would be restrictions, and abortions could only be allowed where there's a fatal fetal abnormality affecting the child, or where there's a risk to the life or health of the mother. In these scenarios two doctors would need to assess the woman.
Read more: Facebook blocking foreign ads targeting Irish abortion referendum
'Love Both Vote No' spokeswoman Cora Sherlock told the rally that the government would unveil a family doctors-led abortion service that would eventually lead to unrestricted access to abortion. "Genuine healthcare is about saving lives, not ending them," she said.
On Saturday, 'Doctors Together for Yes' launched their public database of more than a thousand doctors backing repeal, reported the AFP news agency.
According to the latest poll by Kantar Millward Brown for Ireland's Sunday Independent newspaper, 45 percent are in favour of changing the abortion law, 34 percent back the status quo, and 18 percent are undecided.
Each evening at 1830 UTC, DW's editors send out a selection of the day's hard news and quality feature journalism. You can sign up to receive it directly here.
kw/aw (AFP)