Ankara's eccentric mayor, Melih Gokcek, resigned Saturday after 23 years of running the Turkish capital, becoming the latest local politician to bow to pressure from President Recep Tayyip Erdogan as he shakes up his party.
The 69-year-old former mayor is one of Turkey's most controversial and high-profile figures, regularly appearing on television and pushing conspiracy theories to his 4 million Twitter followers. He has famously claimed Western powers cause earthquakes to hurt Turkey, called German politician Cem Özdemir an "Armenian servant," and suggested the Obama administration created the "Islamic State."
A die-hard Erdogan loyalist, Gokcek announced he would resign last Monday. He made the announcement in his trademark all-caps tweets after a three-hour meeting with Erdogan at the presidential palace.
"I leave my post of mayor on orders from our leader Recep Tayyip Erdogan," Gokcek said in a televised speech on Saturday. "I bow to the request of Recep Tayyip Erdogan, not because I do not think I have been successful, not because I think I'm tired... but only because I think (Erdogan) can make our country a leader."
In the weeks leading up to the resignation, Gokcek appeared to resist pressure to step down from Erdogan, who said there would be consequences for mayors who didn't resign.
Then, the pro-government media that once supported Gokcek started publishing articles suggesting he was close to the opposition Republican People's Party (CHP) and Fethullah Gulen, the US-based cleric Ankara blames for last year's failed coup attempt.
Such media reports were clear threats, indicating an indictment could be pending for Gulen ties or corruption if the mayor didn't step down. Similar to Erdogan, Gokcek was close to the Gulen movement before a falling-out between it and the ruling Justice and Development Party (AKP) in 2013.
Erdogan purging mayors
Gokcek is the sixth mayor from Erdogan's ruling Justice and Development Party (AKP) to resign under pressure in recent weeks, including those of Istanbul and Turkey's fourth-largest city of Bursa.
Under a state of emergency, Erdogan has also replaced more than 80 Kurdish mayors in the southeast with loyalists over the past year.
"Fifty per cent of the population is not governed by the mayor they elected," opposition CHP leader Kemal Kilicdaroglu said Saturday. "You either remove them with a decree or you threaten them,"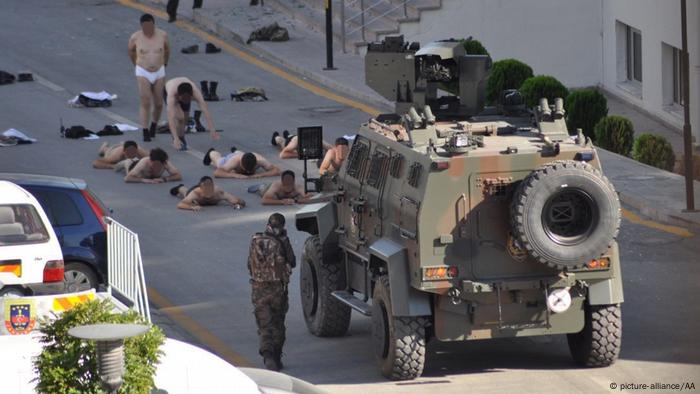 More than 50,000 people have been arrested and some 150,000 dismissed from their jobs in an ongoing cull in the wake of the failed coup attempt.
Read more: Turkish nationalists form new party challenging Erdogan
Opinion: New political party gives life to Turkey's opposition
Erdogan says the AKP has suffered from "fatigue" and needs new blood as the party heads toward municipal elections in March 2019, followed by elections for parliament and president later that year.
The president appears to be worried. A controversial referendum in April to expand presidential powers narrowly passed with 51 percent support. The opposition claimed the lead-up to the vote was unfair and the referendum itself possibly rigged.
Crucially for Erdogan, the referendum failed to win a majority in Ankara and Istanbul.
cw/ss (AFP, dpa)