Talk of the economy in Germany's eastern federal states, the former East Germany, usually includes frowns, sighs and perhaps a little resignation. But a new study shows that Saxony is head of the class when it comes to the development of several important economic indicators. It beat out Germany's larger, and generally more prosperous, western states.
"We wanted to show what the states are doing," said Jens Walter, a spokesman for the Initiative for a New Social Market Economy (INSM), which carried out the study in cooperation with the business magazine WirtschaftsWoche. "We can only show that through a dynamic ranking, which looks at what measures the small states are putting in place to get ahead."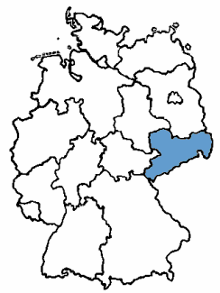 The federal state of Saxony (in blue)
While Saxony up top was an eastern surprise, those ranking at the bottom of the list included three eastern economic basket cases: the capital and city-state Berlin, which has little industry and is deeply in debt; the state of Brandenburg, which has watched several ambitious business ventures collapse in recent years; and Mecklenburg-Western Pomerania, which suffers from geographic isolation, low population density and a weak infrastructure.
The study, which also included a ranking of the overall prosperity of the different federal states, took 30 different criteria into consideration in its analysis. For the dynamism judging, which looked at the period between 2002 and 2004, five indicators received special weight: labor market development, prosperity, business friendliness, infrastructure and company performance.
Saxony finished with a healthy lead over second-place Rhineland-Palatinate and Lower Saxony, which came in third. Bavaria, which is often touted for its own "laptops and lederhosen" mini-economic miracle, did lead the table in the prosperity listing, but only managed fourth on the dynamism scale, almost 10 points behind Saxony.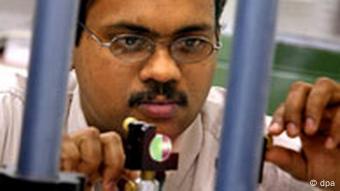 A student at Chemnitz Technical University works at a laser facility
"Of course we're very pleased," said Thomas Jurk, Saxony's economics minister. "We have a solid economic foundation here, attractive research opportunities and highly skilled people. Those have all led to our success."
The authors of the study, it should be noted, are not completely independent. INSM was founded in 2000 by the employers' association of the metal and electrical industries. The group commissioned economists from the Cologne-based Institute for Economic Research, which generally takes a pro-business stance when conducting economic analysis. INSM also engages in lobbying work to encourage labor market and welfare reform in Germany to make the country more business-friendly.
Model for others?
If Saxony can fire up the engine behind their economic development, the question is whether other eastern states can emulate that success. Yes and no, said those close to the issue, since Saxony is a relatively special case.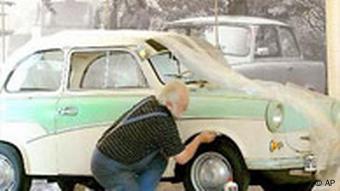 Even in the GDR era, Saxony was a strong economic region. And while the fall of the Berlin Wall and ensuing reunification drove many inefficient East German industries into the ground, Saxony was able to ride out the tumult better than others. It was a center of automobile construction and microelectronics, and had a work force skilled in these fields.
The state government realized this and lobbied hard to sell Saxony as a place where western companies could set up factories easily, and which featured an eager pool of employees waiting to work. That is how it managed to bring carmakers BMW, Porsche, and VW as well as chipmaker AMD to the region.
"We were able to take advantage of our core knowledge and abilities, which allowed us to attract several big players," said Jurk, adding that the presence of two major urban areas, Dresden and Leipzig, has also played a role.
Economic Berlin Wall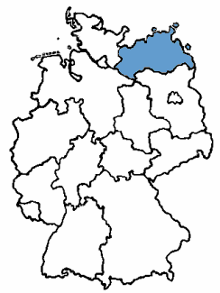 Mecklenburg-Western Pomerania (in blue)
Other regions don't have this ability. Last-place finisher Mecklenburg-Western Pomerania never was far removed from East Germany's industrial heartland, more rural than urban, which few major highways and no large cities. It was the GDR's playground, due to its long Baltic Sea coastline, but with little industrial base.
"This study shows us is that there is a still a Berlin Wall, an economic one," said the INSM's Walter. "But it runs from east to west through the former east Germany, separating the more dynamic southern states from the more weaker northern ones."
"It's hard to just copy what Saxony is doing," he added. "There is no one recipe."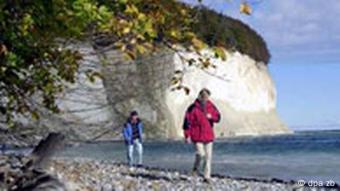 Mecklenburg-Vorpommern is picturesque, but industrially week
For its part, Mecklenburg-Western Pomerania's economics ministry spokesman, Gerd Lange, is fairly blasé about the fact it is bringing up the rear in the study. He pointed out that the data were gathered from 2002 to 2004, a hard time for the state.
"Things are better now, unemployment is down and we are starting to recover," he said, adding that his state simply does not have the tools to compete with Saxony.
It is, however, trying to diversify its industrial base, focusing on tourism, health services and the food industry. The region is getting a new highway in December that should improve its transport infrastructure and should attract more investment, Lange said.
"Even though it's no fun being last, it's kind of like being at the bottom in the soccer league table," he said.
Catching up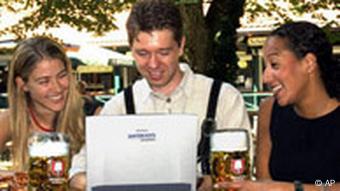 "Laptops and lederhosen" is a catchphrase for Bavaria's modernization and growing economic strength.
While Saxony edged out economic bright light Bavaria in the dynamism department, Bavaria did come out on top in the other ranking, which measured overall prosperity. Saxony only came in ninth in this regard, plagued as it is by an unemployment rate of nearly 20 percent. All of the eastern states were behind the western states in this ranking.
The authors of the study said it showed that the eastern part of the country still had a long way to go before it caught up with the western half. Few are willing to give predictions, but the INSM's Walter spoke of "several generations."
Thomas Jurk of Saxony's economics ministry also was reluctant to speculate.
"Catching up to, say, Bavaria might take a while," he said. "But we're almost holding our own with some of the city-states, and that's not bad at all."