Teenage blogger Amos Yee was found guilty by a Singapore court on Tuesday, May 12, of transmitting an obscene image and deliberately "wounding the religious or racial feelings of any person."
Yee was arrested and charged in March for posting on the Internet an obscene cartoon of former UK PM Margaret Thatcher and Singapore's founding Prime Minister Lee Kuan Yew just days after Lee's death. He also released an eight-minute video on YouTube in which he criticized the late former PM Lee and compared him to Jesus Christ. He then referred to both of them as "power-hungry and malicious."
During last week's trial, the teenager pleaded not guilty to the charges against him. The court, however, rejected Yee's defense that he did not intend to insult Christians. Although Yee faced up to three years in prison, the judge allowed the 16-year-old to be put on probation.
Yee was released on a bail of 10,000 Singapore dollars (around $7,400) and authorities will now interview him and his parents to determine what kind of probation he would receive. The result would be announced on June 2.
Nevertheless, Yee's case has once again turned the focus on Singapore's tough censorship laws and wide-ranging restrictions on freedom of expression, sparking an emotive discussion on the issue.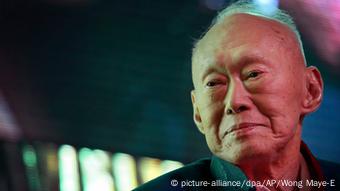 The late Lee Kuan Yew is widely revered in Singapore
Criticism
International rights groups such as Human Rights Watch (HRW) criticized the verdict saying that it was about "publicly punishing a youthful dissident who dared besmirch the image of the recently passed leader, and intimidating anyone else who might think of doing the same in the future."
"Singapore's actions to criminalize Yee's statements run contrary to international human rights standards and are a dangerous affront to freedom of expression," said Phil Robertson, HRW's deputy director for Asia.
Although Singapore's constitution guarantees freedom of speech, there is an array of laws in the name of national security and public morality that preclude citizens from exercising free speech. Furthermore, social and cultural values in Singapore - which often differ significantly from Western ones - also play a role in the interpretation and implementation of the right to free speech.
"The current state of freedom of expression is not much different to how it has been for decades, with a firm clamp on free speech and extensive laws and practices meant to either foster self-censorship or prosecute where that fails, Garry Rodan, professor of politics and international studies at Australia's Murdoch University, told DW.
The expert points out that the questions regarding the case of Amos Yee are twofold: First, should it be unlawful to be insulting of Lee Kuan Yew or Christianity? Second, how do we distinguish criticism from insult?
Although some take a critical view of the stringent restrictions, others in Singapore also argue that they are needed to ensure public order and religious harmony in the multicultural city-state which is home to diverse ethnic groups.
Fostering censorship
However, experts say most free speech controversies have nothing to do with religious sensitivities and threats to public order. They note that the city-state's laws make it very difficult for serious public scrutiny of the way government ministers, senior bureaucrats and the courts exercise their powers.
"The sorts of expressions that arouse most reaction from authorities tend to be ones that implicitly or explicitly question the integrity of decisions taken by the government," said professor Rodan.
Furthermore, Singapore's laws provide for huge financial penalties in a bid to temper reporting by international media organizations operating in Singapore as well as to foster widespread self-censorship among locals, Rodan told DW.
While the advent of the Internet has emboldened some individual civil society activists, the laws have been increasingly tightened and applied to try and enforce greater restraint in cyberspace, underlined the analyst.
Rodan called on Singapore authorities to revise various laws in order to remove vague terms that make it possible for legitimate political analysis and criticism to be conflated with personal attacks, threats to public order, or, in the case of media laws, interference with domestic politics.
"Political leaders could show more confidence in Singaporeans to make up their own minds about competing views on how their city-state is governed or ought to be governed."