Dany Hok: "I'd say: Berlin is my home!"
Dany Hok has a fascinating life story. Born in Phnom Penh in 1969, he was there when the soldiers of the Khmer Rouge invaded the Cambodian capital in 1975. Under Pol Pot's totalitarian regime, Hok's entire family was murdered, leaving him the sole survivor.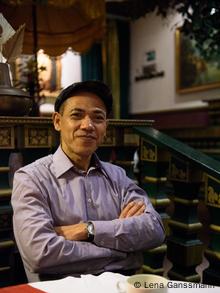 Dany Hok
His mother died in his arms when he was only nine years old. He was lucky to escape, living alternately with foster parents and his uncle's family until he left Cambodia in 1988 for East Berlin. After the fall of the Berlin Wall, Hok met another Cambodian in West Berlin who was getting ready to open a new restaurant.
Angkor Wat in Berlin's Moabit district
The restaurant where where Dany started working as a cook when it opened in 1990 was already named Angkor Wat. Located in Berlin's Moabit district, a former working class neighborhood, Angkor Wat was Germany's first Cambodian restaurant. Dany took it over in 2006.



Amok Trey (Fish amok)
Serves 4
Ingredients:
For the amok:
1 kg firm white fish filets
600 g mushrooms
4 bell peppers
8 pineapple slices
12 garlic cloves
2 small slices of galangal root
8 T chopped lemongrass
4 t turmeric powder
4 t curry paste
4 T fish sauce
8 t sugar
600 ml coconut milk
8 T oil
4 t tomato paste
2 t salt
12 Kaffir lime leaves
2 limes
12 small star anise pods
4 T chopped peanuts
For serving:
8 banana leaves, cut into a circular form
4 steamer baskets
Preparation:
Slice lemongrass and Kaffir lime leaves into fine strips. Peel and slice galangal root. Chop garlic, slice lime peel. Dice bell peppers, mushrooms, and pineapple.
Slice fish filet into two-centimeter pieces. Heat oil, then add garlic, lemongrass, galangal root, curry paste, turmeric powder, fish sauce, tomato paste, sugar, lemon leaves, and lime peel. Sauté briefly, continuing to stir. Add fish filet and salt, and sauté for around five minutes. Finally, add coconut milk, vegetables, star anise, and peanuts. Simmer for 15 minutes.
Place two banana leaf circles into each steamer basket. Position so that the veins of the leaves cross in a 90-degree angle. Fill steamer baskets with the fish amok and steam for around ten minutes in a pot with a steamer insert or a food steamer. Serve with rice.
Restaurant Angkor Wat
Paulstraße 22
10557 Berlin
Tel.: +49 30 3933922