Amazon's recent purchase of the video game streaming site Twitch for $970 million came as quite a surprise to the business community given that Google-owned YouTube was reportedly in talks to acquire Twitch for roughly the same amount.
Gamers can use Twitch to film themselves playing video games and stream those competitions to millions of worldwide viewers.
Google and Twitch would seem to have been a better fit given that Twitch users tuned in to watch head-to-head video game battles for an average two hours per day in 2013. That could have meant a lot of potential viewers for Google on its "AdWords" keyword advertising service.
Amazon's purchase of Twitch could signal its intention to compete directly with Google on the ad revenue front. It comes just after Amazon announced its own advertising venture through its new product "Amazon Sponsored Links."
Still, according to the Wall Street Journal, Amazon is currently only interested in switching Google's ads on Amazon with "Amazon Sponsored Links." That could potentially be a tremendous revenue generator for Amazon through its new relationship with Twitch and all those loyal gamers.
And Amazon is also apparently viewing Twitch as a compliment to its Fire smartphone, tablet and set-top box devices, all of which support mobile gaming. Twitch users would find Fire an easy and convenient platform on which to broadcast and view gaming. Somewhere down the line, Amazon may also decide to integrate Twitch's streaming technology into the Fire devices.
Twitch started in 2011 with a view toward providing live video game viewing. In July, more than 55 million visitors gathered through Twitch to broadcast, view and talk about video games. Content producers included individual gamers, publishers, game developers and others.
Cloud fights
Amazon's effort to expand its reach into the gaming market is just one front in its expanding battleground with rival Google. Another is cloud services, where Amazon is, at least for now, clearly dominant.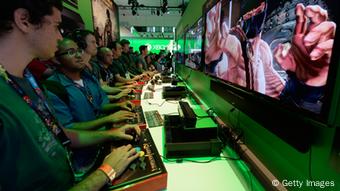 Some people can do this for hours on end, or watch someone else do it on Twitch
"The cloud is a strong growth market and Amazon is the 800-pound gorilla," says Jagdish Rebello, a technology industry analyst at the economic think tank IHS Global Insight. "When it comes to providing pure cloud services, Amazon has more expertise." And Amazon is not content to stand pat.
Enter Amazon Zocalo - the online retailer's new data sharing service designed to compete directly with the more established Google Docs. The service will be offered as part of Amazon Web Services (AWS).
The service runs on multiple devices and allows users to share documents, spreadsheets, presentations, web pages, PDFs, or text.
Amazon also has big head start in providing individualized customer service through its music downloading and video streaming service Amazon Prime.
But Google is making its own run at the cloud market, where it has an advantage with significantly larger storage capacity through its global network of servers, where it maintains its Gmail service, the Google + social media site and other free services.
Advertising is key
Experts say Google will keep trying to make inroads in the cloud market by giving away free data and services whilst generating revenue through selling advertising.
"Advertising is everything," says Charles Bartlett, a California-based science and technology blogger. "Ads are how the web is monetized."
Bartlett says Google understands better than most that online advertising is "much more targeted and efficient than traditional advertising."
"Notice when you watch a Youtube video," he says. "The ads are tailored to match your recent Google searches."
To that end, Amazon has begun running only Amazon ads on its shopping site. IHS Global Insight's Rebello says by using this "closed-system" strategy on its online shopping and cloud services, Amazon is trying to replicate what Apple did when it started out.
"If you control all the elements on your service it makes for a better user experience," says Rebello.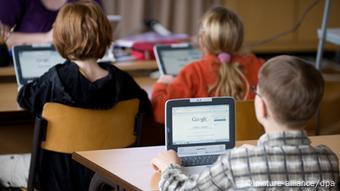 Google wants to leave its mark in the classroom
Consumers and education
Consumer products are another growing area of competition between the two tech giants. Amazon already has its Kindle e-reader and tablet line. Google has its Nexus line of smartphones and its Chromebook line of high quality, affordable laptops. Observers say Google may be trying to gain an edge on Amazon by becoming the favored product line in the field of education.
"Chromebooks are the laptops of choice in schools," says Bartlett. "They're cheap, and the software is essentially free."
Bartlett says "Google Classroom" is being used by a growing number of teachers to handle such basic classroom functions as giving tests and posting grades. He says Google's message to teachers is "the service is free. So here's your virtual classroom." And that, he says, could be an excellent way to build brand loyalty from instructors, school administrators, parents and students.
Drone wars?
Meanwhile, the next battle between the two companies could be in the skies above as both Amazon and Google are currently testing commercial delivery drones.
Google's "Project Wing" and Amazon's "Prime Air" are already being tested with trial flights simulating deliveries of medium weight packages.
The US Federal Aviation Administration will authorize commercial drone flights next year. But some experts say wide-scale drone deliveries would be years away, if ever, given the logistical problems presented by power lines, trees, low-flying aircraft and other obstacles.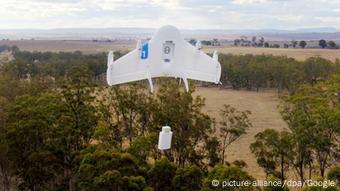 Drones for commercial use are still pie in the sky
"Both are trying to move out of the novelty market and into real world applications," Rebello says.
Blogger Charles Bartlett says Google and Amazon could compete for government and NGO drone delivery contracts. He speculates that drones could eventually become useful for delivering emergency supplies to aid groups working with disaster victims in hard-to-reach areas. Militaries could also one day use drones to supply front line soldiers.
Overall, says Jagdish Rebello, tech companies are "looking for the next growth market. The competition is in its early stages, and there's a lot of room."