'Nuclear energy is a cost-efficient bridge technology which is needed for the transition into the era of renewable energy sources.'
Or at least it was when Chancellor Angela Merkel's coalition of conservatives and pro-business Free Democrats was using this line of reasoning to justify overturning her predecessor's timetable for phasing out nuclear power by the end of the decade.
Then Fukushima happened.
Now Merkel's government is preparing legislation to exit nuclear power by 2022, along similar lines to the timetable first introduced by the Social Democrats and Greens earlier this century.
So what will become the 'bridge technology' now?
In Germany, electricity comes from a variety of sources: About a quarter is produced in nuclear power plants, renewable energies like wind, solar, hydro and biomass generate some 17 percent, and fossil fuels like coal and gas produce over 50 percent.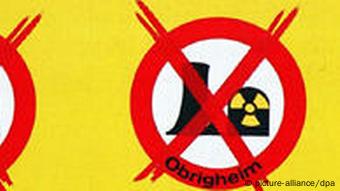 Most Germans approve the end of nuclear power, but what does this entail?
Search for a plug

If Germany wants to fulfill its climate protection goals, the share of electricity from fossil fuels - especially coal - cannot be raised, says Stefan Kohler, the chairman of the German Energy Agency (dena).
"The federal government has internationally committed itself to cut down CO2 emissions by 40 percent (by 2020). This inevitably affects the discussion about our energy mix."
As a consequence, Kohler sees the 'energy transition', to which Germany has committed itself, as more than just the phasing-out of nuclear power.
It's all about "how we can optimize our energy system in general", he says. This affects not only production, but also energy demand, storage and distribution.
According to the German Advisory Council on the Environment, a panel of independent experts who advise the federal government, Germany could draw all of its energy from renewable sources by 2050.
Council spokesman Martin Faulstich says this would be "the most cost-efficient economic strategy in the long run."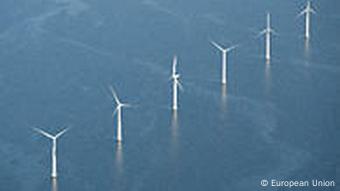 Offshore wind makes up a big chunk of Germany's wind energy potential
100% renewable by 2030?
His colleague and fellow member on the panel, Olav Hohmeyer, goes one step further.
He says Germany could switch completely to green energy by 2030, if it makes a concerted effort to extend the grid and develop electricity storage capacities to compensate for fluctuations in supply.
Current calculations, he says, assume that conventional power plants will stay on the grid for another 35 years. "If the operating time is reduced", Hohmeyer says, "our electricity could be supplied by renewables by 2030".
Scientists criticize the federal government for their failure to lay out detailed plans for a cost-efficient alternative electricity supply.
But other energies are also making their case to fill an expected void in the wake of the upcoming nuclear phase out.
Though gas is a fossil fuel, it emits substantially less carbon than coal, and is also an established source of energy. Gas providers are positioning themselves as the 'next' bridge to the clean energy utopia.
Gas makes a comeback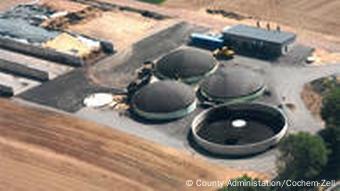 Natural gas also offers a big potential, say scientists
Globally, this movement already appears underway. With extraction technology improving, more natural gas deposits are opening up around the world.
Many are unconventional deposits, like shale gas, which can be found in layers of shale, mudstone and sandstone.
When the stone is drilled with a special technique which experts call 'fracking' it produces small cracks which release gas. Technologically-speaking the production process is more complex than with conventional natural gas, but new technologies and rising energy prices make it more and more lucrative.
The gas market in the US has been revolutionized by shale gas.
About half of all gas used there already stems from these unconventional sources. There is more than ten times as much available as conventional gas.
"The US alone theoretically does not need to import gas for the next 200 years", says Wolfgang Reitzle, chairman of Munich-based industrial gas supplier Linde.
"Three years ago, this was a completely different situation. A true revolution has happened there, without anybody noticing," he says.
Reitzle says shale gas is abundantly available, and that Germany should make use of its significant deposits. Environmentalists, however, have criticized the fact that tapping shale gas deposits requires the use of poisonous chemicals and still remains a source of considerable emissions.
Lesser of two evils, or big mistake?
So from an emissions point of view, wouldn't Germany have been better off sticking with Merkel's decision last year to extend nuclear power by an average of 12 years beyond former Chancellor Gerhard Schroeder's 2020 kill date?
Not according to Germany's Greens and some scientists who have said Merkel's decision to reverse Schroeder's policy last year sent a wrong signal to Germany's energy suppliers.
They argue that companies suddenly saw the opportunity to earn billions of euros with existing nuclear power plants and rapidly lost interest in investing in new alternative energy infrastructure.
Now energy suppliers are scrambling to dust off those old plans, which involve the installation of wind turbines on the German coast, whose capacity is estimated to be some ten giga watts, about as much as would be needed to replace eight nuclear power plants.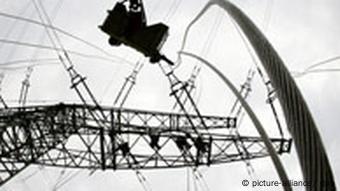 Shutting down nuclear power plants also means having to invest in more high-voltage lines

Currently, says Stefan Kohler, two thirds of nuclear power is produced in Southern Germany, one third in Northern Germany, and the centre of Germany runs on lignite – brown coal.
The government's plan to produce the largest share of wind power on sea, says the head of dena, means that most electricity will be produced where it's not used.
"In the past, we'd always build power plants where we needed power", he says, "this is changing, and we need to adjust our electricity grid accordingly". There are already days today when the existing wind turbines produce more energy than the existing electricity grid can handle.
Kohler's agency has calculated that Germany needs an additional 3600 to 3700 kilometers worth of high-voltage lines by 2020, yet this may not go down well with Germans living in scenic areas.
No matter how complicated the process, the energy needs to be made available also in Southern Germany's areas with a high population density.
The fact that wind is a volatile source of energy makes it necessary to build energy storing plants, such as pumped storage power stations.
When there's an excess of power produced by wind turbines, these stations use it to pump water to a higher elevation so that it can be used to drive turbines when the wind drops off. Other 'green battery' ideas involve using wind energy to charge hydrogen fuel cells.
All of this requires billions of euros of investment. So how quickly Germany can phase out nuclear power ultimately comes down to when, and if, the money is made available.
Author: Sabine Kinkartz, Klaus Ulrich (nh)
Editor: Nathan Witkop