"I am French, born in Paris, says Salome Roussel. "I'm thinking about moving to Israel, because French people are more and more against Jews. They say we are a lobby, that we are the masters of the world, and it's not so!"
Roussel, 38, is not alone. Growing numbers of French Jews are not just thinking about starting a new life in Israel: Record numbers of them are taking action. Last year 3,120 French Jews moved to Israel, according to the Israeli Immigration Ministry, a jump of 63 percent on the previous year. They even outnumbered US immigrants to Israel.
Anti-Semitism and poor economic prospects were the most cited reasons for leaving.
Around half a million Jews live in France, so those 3,120 only make a tiny dent in the population. But they are indicative of a "bad climate for Jews in France" propagated by extremists, Roger Cukierman, president of the Representative Council of French Jewish Institutions (CRIF), told France Info.
Though they make up only 1 percent of the French population, Jews are the object of 40 percent of hate crimes. Figures released recently by the Jewish Community Protection Service (SPCJ), which logs anti-Jewish acts of aggression, show that Jews are far more likely than anyone else in France to be the objects of verbal abuse or harassment. The SPCJ logged 423 anti-Semitic acts, 318 "threats," 49 acts of violence, 52 acts of vandalism, 3 arson attacks and one attempted homicide last year.
That is at least an improvement on 2012, which saw a 58-percent rise in anti-Jewish acts. That year three Jewish schoolchildren were shot dead by the Islamist terrorist Mohamed Merah in Toulouse. The incident is still fresh in many minds.
Anti-system or anti-Semitic?
Cukierman pointed to the Dieudonne affair as making the first months of 2014 "very worrying."
Courts in January banned a series of performances by the Franco-Cameroonian comic Dieudonne M'bala M'bala after a state television channel broadcast hidden camera footage shot at one of his shows, called "Le Mur" (The Wall), in which he "joked" that he regretted that a prominent Jewish radio presenter hadn't died in the gas chambers.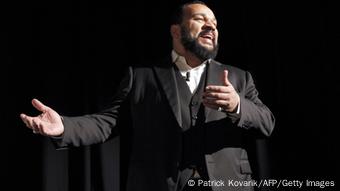 Dieudonne has a huge following though he has outraged many
Dieudonne, a successful film actor and much-admired stand-up comedian, has been found guilty on several occasions of inciting hatred against and insulting Jews in the past. On one occasion he even invited on stage his friend Roger Faurisson, a historian who denies the Holocaust, dressed as a concentration camp prisoner.
"I am worried the Dieudonne affair will lead to a new spike of anti-Semitic acts," said Cukierman, one of the Jewish leaders Dieudonne attacks in his shows.
The banning of "Le Mur" led many thousands of Dieudonne supporters to join government opponents, including far-right militants, royalists and traditionalist Catholics, for a march and rally in Paris, called "Day of Anger," in late January.
Marching through the streets of Paris, some of the demonstrators chanted obscene slogans against "Zionists" and made the 'quenelle,' a gesture invented by Dieudonne that looks like a lowered Nazi salute.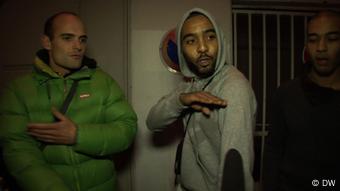 Some say the 'quenelle' is anti-system, others say anti-Semitic
Dieudonne says it is nothing but an 'up yours' gesture and has no anti-Semitic overtones.
It has become a fad for Dieudonne supporters to post pictures of themselves on the Internet doing the 'quenelle,' sometimes in front of Holocaust memorials or Jewish schools.
French Jews find it unsettling, apparently with good reason.
'Difficult to be a Jew'
Salome Roussel cites a recent incident on the Paris metro as being illustrative of the pressures Jews face in France. A man sitting in front of her on the train smiled at her and caught sight of the Star of David she wears on a pendant around her neck. As he was getting off the train, he made the 'quenelle' gesture at her.
He did it because "I've got a Star of David, and I'm a Jew," says Roussel, adding: "I'm not the system!"
Her consternation resonates with lawyer Arno Klarsfeld.
"It is obvious that if the incitement [of hatred] against Jews continues, the Jews will leave. Most Jews have already left the suburbs, because the climate isn't very good for the Jews in the suburbs," says Klarsfeld, the former head of the French Sons and Daughters of Jewish Deportees Association and son of the so-called Nazi-hunters Beate and Serge Klarsfeld, who were responsible for a string of arrests of people who collaborated with the deportation to the Nazi death camps of some 80,000 French Jews during World War II.
"Some - at least Arabs - are very much against the Jews," Klarsfeld told DW. "There's violence at schools. Jews who wear the yarmulke in the suburbs will not last very long!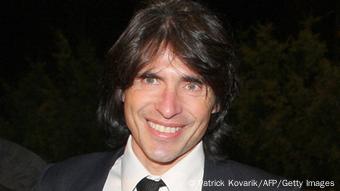 Klarsfeld himself holds both French and Israeli citizenship
"When a teacher speaks about the Shoah [the Holocaust] in class, a certain number of pupils of Arab descent are not happy and make derogatory remarks. So in certain parts of France it is difficult to be Jew. Most of the Arabs are not anti-Semites, but a certain percentage is, and with shows like Dieudonne's they have the tendency of becoming more and more so," Klarsfeld says.
Others warn against exaggerating the phenomenon. Francois Pupponi, the mayor of the poor Parisian suburb of Sarcelles, says that the large Jewish population there - one of the biggest in France - lives in peace alongside a large Muslim population, even though many in the Jewish community wear yarmulkes in public.
Other problems in a Jewish state
Nevertheless, the feeling of insecurity appears to be strong among many French Jews. A survey published in November of Jews in eight EU countries by the European Agency of Fundamental Rights showed that 70 percent of French Jews worried about insults or harassment and 60 percent about physical aggression due to being Jewish. The European averages were 46 and 33 percent respectively.
And even if only a minority of the French are openly anti-Semitic, they have poisoned the air, according to Salome Roussel. Israel could offer relief to Jews like her, she says: "Because it is a Jewish state, so you can be Jew, no big deal! You have other problems, but not this one."