Filmed over a year armed with drones, his iPhone and about 200 crew members, Ai Wei Wei visited more than 40 refugee camps in 23 countries to make his first feature length film, "Human Flow," which he hoped would spur people to help refugees.
Now the film has been selected from among 170 documentaries for the 15-strong shortlist for the Oscars. Five films will end up receiving a nomination on January 23, 2018, before the Oscars will be awarded on March 4.
Among the other contenders are "An Inconvenient Sequel: Truth to Power," a 2017 follow-up to the climate documentary "An Inconvenient Truth" (2006) that was honored with an Academy Award in 2007. Another favorite is the documentary "Jane" about gorilla researcher Jane Goodall.
Read more: Ai Weiwei's 'Human Flow' and 11 other memorable films on refugees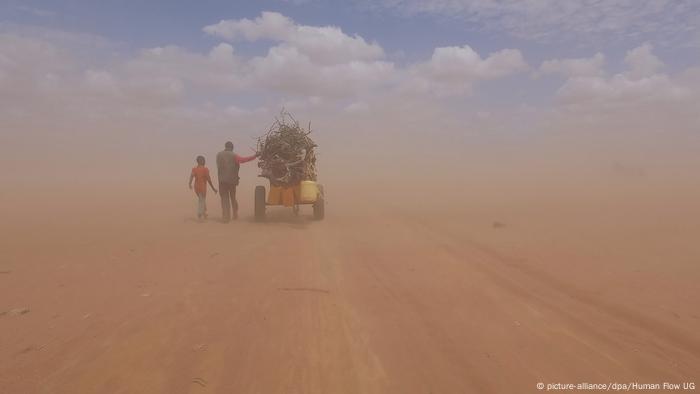 Ai Weiwei's "Human Flow" is an Oscar contender
German producer Heine Deckert participated in the production of Weiwei's documentary which travelled to refugee camps in Greece, France, Kenya, Lebanon and Gaza, with some scenes set at the borders between the US and Mexico, as well as Serbia and Hungary.
Ai Wei Wei, who was once jailed in China and has lived in Berlin since 2015, said he wanted the film to make people see refugees in a different light as they were victims of man-made problems.
In this light, the artist is critical of Britain's decision to leave the European Union, saying at the December release of "Human Flow" in the UK that Brexit is a backward step that will make the country more isolated.
Read more: Progress in Brexit talks, but Britain still divided
"I think it is backward in terms of opening up globalisation and will not do Britain any good but rather to become more conservative and more exclusive," Ai told the Thomson Reuters Foundation at the film's launch on December 5 in London.
The documentary has run in German movie theaters since November 16.
ad/sb (dpa, reuters)