At least five National Disaster Response Force (NDRF) teams have been engaged in rescue work in several badly-hit districts of the Indian states of West Bengal and Bihar to help survivors in the wake of a 7.8 magnitude earthquake centered around the Nepalese capital Kathmandu on April 25, which claimed more than 5,000 lives across the region - mostly in Nepal.
More tremors
The eastern state of Bihar was the worst hit, with the home ministry reporting 56 deaths followed by Uttar Pradesh with 12, West Bengal with 4 and Rajasthan reporting one death. At least 14 aftershocks were felt across north India resulting in large-scale disruptions to life and property.
Incidents of walls collapsing, high-rise buildings cracking and, in some cases, houses crumbling, especially in the rural hinterland, were reported across the four states. Communications were down in several areas.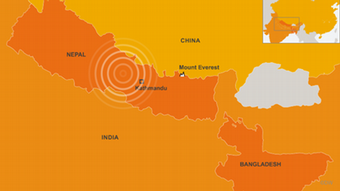 The quake was the worst to hit Nepal in more than 80 years
"Our priority now is to get the injured into safer zones. Our men are doing a good job so far," Vijay Sinha, NDRF commandant, told DW.
In fact, a 5.1 magnitude earthquake rattled the hilly district of Darjeeling in West Bengal on the evening of Monday, April 27, sending hundreds of panic-stricken residents scurrying out of their high-rise apartments on to playgrounds and into open spaces.
Other regions hit by the tremors were Madhupura, Madhubani, Patna, Katiyar and Saharsa in Bihar, Siliguri and Jalpaiguri in West Bengal and some parts of Assam.
"These tremors are still worrying many people, especially those living in the areas of Bihar bordering Nepal. They still fear there could be more quakes and that is why we have evacuated many families from here," said R.K. Jain, member-secretary of the National Disaster Management Authority.
Aid relief underway
Rescue teams have fanned out to several parts of Bihar, especially in the east Champaran district, which has been hit the worst. Several villages have been flattened by the quake, and women and children continue to live in makeshift tents. However, medical teams have managed to reach some of these troubled spots.
Children and handicapped people have been hit the worst, according to relief agencies. "Fuel is needed the most to transport the survivors and those injured to hospitals and safer places. So far, it is proceeding well but there is a huge influx of people who have reached the Indian border at Raxaul from Nepal," said Pradhan.
Bihar's principal secretary in charge of disaster management, Vyas Ji, told DW that special trains were being put into service to evacuate people living in the vulnerable areas along the border between Nepal and Bihar.