Samiullah cannot forget how the members of his family lay there in a pool of blood. The images continue to give him nightmares a year later. He has trouble sleeping at night. He will forever be haunted by the scene, he says.
"The first person I saw dead on the floor was my old mother. Then I saw my old uncle Nazar Mohammad Aka, with his long, white beard. My father was also dead as well as my cousin, Tora. She was precious."
Samiullah takes a deep breath. "These four people are martyrs. Then I saw my small children - my son and daughter Suzanna and also my niece. All three were injured."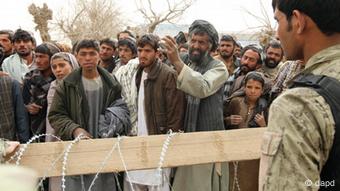 There have been protests at US army bases in Afghanistan
He angrily counts the victims in his family. A total of seven.
Bloody night
In the dark of night on 11 March 2012, US Army Staff Sergeant Robert Bales killed 16 people in Panjwai in Kandahar. Among the victims were nine children and three women. He then allegedly burned some of the bodies.
The incident caused an outrage. Afghan President Hamid Karzai and the US government promised a quick investigation.
Bales has been charged with 16 counts of premeditated murder and six counts of assault and attempted murder. He is currently being held in a military prison in Kansas. He faces the death penalty if found guilty.
Horia Mosadiq of Amnesty International says in this case, as with all cases of civilian casualties, there should be "adequate and independent investigation and the responsible should be brought to justice without recourse to death penalty" and that compensation and reparation should be provided to the victims and their families.
Calls for death
Six representatives from the victims' families travelled to the US a week ago to sit in at the trial. They wanted to put pressure on the court case by showing their presence, explains Samiullah Khan.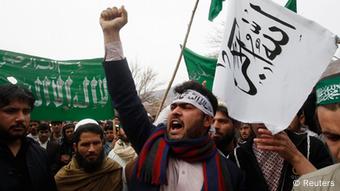 The massacre caused a wave of outrage
"We have waited for exactly a year now. Our government is weak and has not paid any attention to us," the 35-year-old says angrily. "The trial should have taken place in Afghanistan. The murders were, after all, committed in Afghanistan. We lost members of our families. The injustice was done to us; the oppressors have done wrong and we are the ones who suffer from it. We want those responsible to be brought to justice."
"We would rather have seen him hanged in Afghanistan long ago," says Haji Abdul Balqi, who lost three relatives in the massacre. "But he's gone now and we cannot hang him here."
The 40-year-old explains he has spoken out many times but that his calls have fallen on deaf ears and that his talks with government representatives have led to nothing.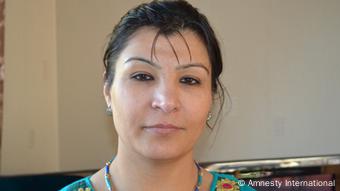 Horia Mosadiq says the families must be compensated and justice must be done
Unrest in his region has reached a boiling point, he says. He says if the international community does not address the problems in the village, there will be a revolt.
"There are new deaths all the time in our district. No one can stop that - not Karzai, nor anyone else. There is no security."
Balqi adds that those who are alive today are primarily busy burying the dead or bringing injured people to the hospital. Anti-US and anti-Kabul sentiment is increasing and people want drastic improvements to the catastrophic security situation, he adds.