Fighting between the Afghan army and Taliban continued for the third consecutive day in the northern city of Kunduz on Wednesday, forcing thousands of residents to flee.
Kunduz's provincial police chief, Gen. Qasim Jungalbagh, said that the Taliban launched a series of fresh attacks on Afghan forces early on Wednesday morning. "Once again insurgents attacked our forces from two different directions, and heavy battles are taking place to the south and east of the city," Jungalbagh said.
US Special Forces and air support are backing Afghan ground troops. US military spokesman Charlie Cleveland described the fighting as "sporadic." He said that since Tuesday night, "US forces have conducted two engagements from the air to defend friendly forces."
According to Jungalbagh, 42 insurgents had been killed and 25 injured in the fighting so far. Five Afghan security personnel are believed to have been killed and 13 others wounded, according to the Defense Ministry.
A Kunduz health department official reported that two civilians have been killed and 71 injured since fighting in the city began. Most injuries were from bullet wounds, he said. Among the injured are women and children.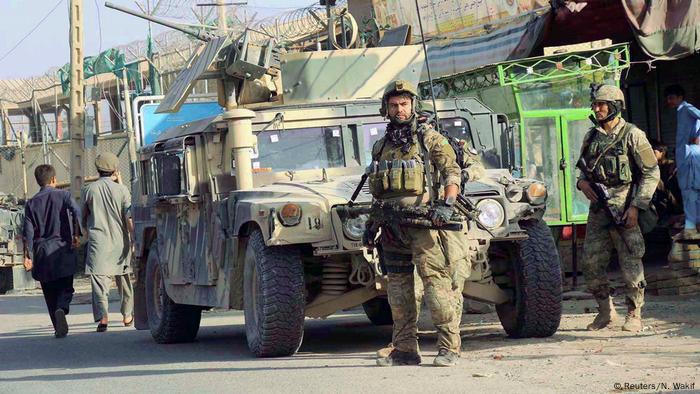 A city on edge
The clashes follow a multipronged attack by insurgents on the city on Monday, with the Taliban briefly hoisting their flag at one of the main intersections. On Tuesday, the army pushed back militants from the center of the city, while fighting continued on the outskirts.
Clearance operations have already begun inside the city. Mohammad Yusouf Ayubi, head of the provincial council, said that supplies of food, water and electricity were all scarce. Food prices have tripled since the conflict broke out on Monday.
The fighting and lack of supplies have forced thousands of residents to flee the city to neighboring districts or provinces.
Taliban fighters were also reportedly spotted in the center of the city on Wednesday. Afghan special forces launched an overnight operation seeking to clear private residences where insurgents are believed to have holed up.
Meanwhile, the army has raised a "security ring" around Kunduz's main checkpoints to prevent further attacks.
Kunduz is a major intersection in the north of Afghanistan and a strategic city. It briefly fell to the Taliban last year - the first time a major urban center had been taken over since the group was overthrown in the US-led invasion of Afghanistan 15 years ago. The insurgents were quickly beaten back by the Afghan army, again with the aid of US airstrikes.
This week's fighting comes as officials from over 70 countries meet with Afghan leaders in Brussels. The international community is seeking to pledge billions of dollars in long-term aid for the cash-strapped government.
dm/cw (AFP, AP, dpa, Reuters)