"The police special operation has ended, the terrorists who attacked Care International last night have been killed," Spokesman for the Afghan Interior Minister, Sediq Seddiqi told journalists.
Forty two people, including 10 foreigners were rescued, he said in a tweet.
The gun battle had started early Tuesday morning, hours after a car bomb struck Kabul's central Shar-e-Now or the New City area.
The attackers were holed up inside a building belonging to the charity Care International, Sediqqi said, adding that one civilian had been killed and six others wounded in the attack. Security forces had rescued more than 40 people who were trapped inside the building, he told journalists.
Afghan police have blocked all roads leading to Shar-e-Now. The area is home to several guest houses frequented by foreign diplomats.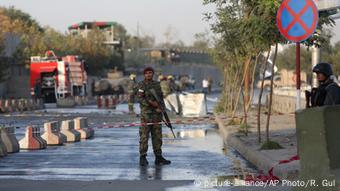 Terrorists struck the interior ministry on Monday
The attackers reportedly entered one of the buildings after attacking a busy zone in the area, where shops were open until late ahead of the Eid holidays. Security officials said the target could have been a guesthouse hosting Indian nationals, DPA news agency reported.
Tuesday's gun battle comes a day after twin bombings at the defense ministry in Kabul claimed 24 lives. Security forces rushed to the scene of the strike after the first attack, which took place as employees were leaving for the day.
The second suicide bomber blew himself among the crowd that had gathered to help the injured. A senior Afghan army official and the police chief for Kabul's district two died in the incident. More than 90 others were wounded, spokesman for the Afghan ministry of health, Wahidullah Majroh, told DPA.
President Ashraf Ghani condemned the attacks on Monday, saying "terrorist groups attempt to reach their ominous goals by spreading fear." The strikes were claimed by the Afghan Taliban.
mg/jil (AFP, dpa, Reuters)