An unknown assailant spray-painted the Berlin state offices of the Alternative for Germany (AfD) party overnight on Sunday, according to German media reports. The police said that the building near Berlin's famous Tiergarten had been painted with graffiti slogans such as "Nazis out" as well as slogans like "Refugees are welcome" and "No person is illegal," which allude to the party's inflammatory rhetoric.
Officers also told the press that the glass facade of the building had been damaged.
This is the second time this month that an AfD office has been attacked. Last week the office of Beatrix von Storch, who represents the party at the European Parliament, was smeared with black paint and had three windows damaged.
Only days before that, three shots were fired through the window of the right-wing populists' branch office in the western town of Arnsberg (pictured above).
The incidents come on the heels of some well-publicized left-wing violence in Berlin, when two nights of mayhem saw some 20 to 40 masked anarchists set fire to cars and smash windows in the Neukölln and Kreuzberg neighborhoods.
Frank Henkel, the head of Berlin's internal affairs, condemned the riots as "terrorist acts" and said "that with leftist anarchists only destruction follows, and that they have no respect for the property of their fellow citizens."
AfD leader: Border guards 'should use firearms if necessary'
At the same time, the AfD has been coming under increasing scrutiny across the country. Founded in 2013 as a Euroskeptic party opposed to Germany remaining in the eurozone, the group has taken an increasingly tough stance on the refugee crisis since it ousted party founder Bernd Lucke last summer.
Germany took in 1.1 million refugees in 2015, and the AfD has seen its popularity jump in the course of the crisis. Already represented in several regional parliaments and in Brussels, the right-wingers have been eyeing the 5-percent hurdle that needs to be taken in order to join the federal parliament when elections roll around in 2017.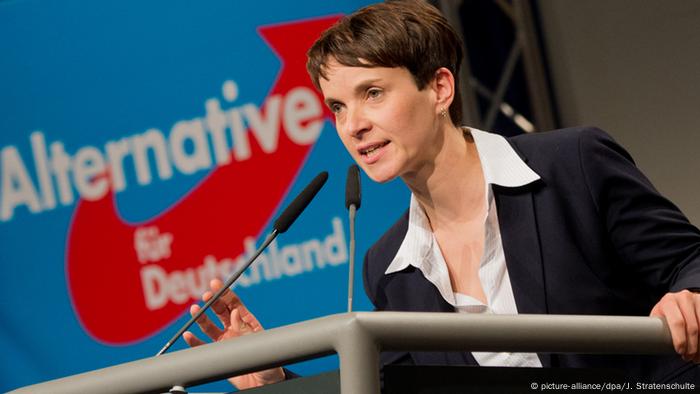 "We need comprehensive controls to prevent so many unregistered asylum seekers from crossing the border," Petry has said
New leader Frauke Petry's outspoken critique of Chancellor Angela Merkel's open-door policy landed her at the center of a media firestorm in January when she told a German newspaper that border guards "must prevent illegal border crossings and even use firearms if necessary."
She later clarified her remarks, saying she would never want a police officer to shoot a refugee and that "armed force is the last resort."
Her comments nevertheless saw the Bavarian city of Augsburg attempt to ban her from giving a speech at city hall, and prompted the nation's Vice Chancellor Sigmar Gabriel to suggest Petry "belongs in the intelligence services report and not on TV."