Turkey under the post-coup grip of President Recep Tayyip Erdogan widened its purge of the military and police to include thousands more persons within the nation's education sector on Wednesday.
Turkey's Higher Board of Education banned academics from leaving for work trips abroad and urged those overseas to return home "within the shortest possible time," according to the state-run Anadolu news agency.
State-run broadcaster TRT said Istanbul University (pictured above) had already removed 95 academics from their posts.
Since Friday, some 29,000 government employees have been suspended, including more than 6,300 soldiers and 3,000 members of the judiciary.
On Tuesday, 21,000 teachers at private institutions had their licenses revoked.
The travel curbs on academics coincided Wednesday in Ankara with Erdogan chairing his first post-coup meetings of the national security council and his cabinet, and a resumption of Turkish airstrikes against Kurdish rebels in northern Iraq.
Education board issues travel ban
The education board, which on Tuesday ordered the resignation of 1,577 university deans, told campus rectors they had until 5 August to "urgently examine the situation of all academic and administrative personnel linked with FETO," a derogatory acronym for the "Fethullah Terrorist Organization."
The Muslim cleric Fethulah Gulen, who has lived in US-exile since 1999 and heads what he terms the Gulen movement, has been accused by Erdogan's right-wing government of masterminding last Friday's failed coup.
Reacting to Ankara's bid to get him extradited, Gulen on Wednesday urged Washington to "reject any effort to abuse the extradition process" and denied any involvement in the putsch.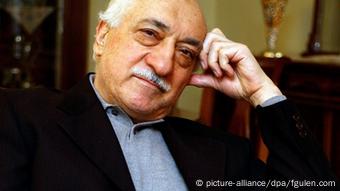 From exile in Pennsylvania, Gulen denies involvement
"It is ridiculous, irresponsible and false to suggest I had anything to do with the horrific failed coup," Gulen said.
White House spokesman Josh Earnest said President Barack Obama had discussed the request during a phone call with Erdogan on Tuesday.
Death toll raised
Anadolu updated its toll from the failed coup Wednesday, saying at least 173 civilians and 67 security force members were killed during Friday's violence.
Anadolu said Erdogan's main military aide, Erkan Kivrak, had also been taken into custody. If confirmed, he would be the second high-level presidential aide to be detained.
Air raids against PKK resumed
Anadolu also said F-16 jets had carried out cross-border air strikes against Kurdish rebel targets in northern Iraq's Hakurk region.
Wednesday's air raids were the first since the coup attempt in which several F-16 pilots were involved.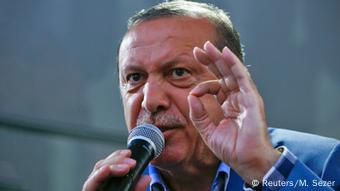 Erdogan is back in Ankara chairing meetings.
The coup bid has been attributed to disgruntled members of the Turkish army, which has borne the brunt of losses in renewed fighting against the outlawed Kurdistan Workers Party (PKK).
Fighting resumed in July last year after a largely respected two-and-a-half year truce which had raised hopes of a final peace deal to end the three-decade conflict between Ankara and the PKK, which was founded by radical leftist students led by now jailed Abdullah Ocalan in the 1970s.
Paris Sorbonne University's Yohanan Benhaim said the resumption of fighting had been "disastrous" for both sides "as well as the civilian population," adding that the latest raids could be a sign that Erdogan had regained control of the military.
ipj/kms (AFP, AP, dpa)