Academic titles like the Ph.D. are held in particularly high regard in Germany, and are generally considered to improve one's career prospects. But they are also at the center of a number of scandals.
Accusations that German Defense Minister Karl-Theodor zu Guttenberg copied passages into his 2006 law dissertation without correctly attributing them in a footnote or bibliography are actually still quite mild compared with some other cases of academic wrongdoing.
One former law professor from Hanover, for example, is currently serving three years in prison after he was found guilty of issuing doctoral titles in exchange for bribes and sexual favors in 2009.
It seems the prestige and the higher salary an academic title confers is a temptation some career-minded Germans find difficult to pass up.
Cut and paste
In earlier interviews with the German press, Guttenberg conceded that members of his blue-blooded family persuaded him to pursue a Ph.D., despite his time-consuming political activities. Now plagiarism accusations against him - that he had literally cut and pasted paragraphs from newspaper articles and other publications - suggest he may have lacked the time or drive to do the research grunt work.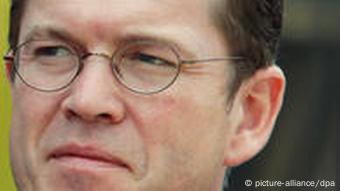 Defence Minister Karl-Theodor zu Guttenberg has lost his doctoral title
Guttenberg is hardly alone when it comes to ambitious people with high goals battling time restraints. In German corporate circles, where a Ph.D. means more status and a higher salary, busy managers have little time to study.
While the defense minister stands accused of failing to provide the proper attribution for certain passages of his thesis, others have been known to turn to a relatively small industry of so-called "doctorate consultants."
Ghostwriting and bribes
The consultants demand anywhere from 10,000 to 30,000 euros to help aspiring doctorate holders with all the formalities and contacts needed to be accepted into a Ph.D. program – and more.
It's the "more" that can cause problems, however. Doctorate consultants specialize in providing assistance in labor-intensive areas such as research and writing - tasks Ph.D. aspirants are normally expected to master on their own.
"We're aware of the criticism of our line of business but we aren't doing anything criminal," said Thomas Nemet from ACAD Write, a company that employs around 250 staff and serves a customer base of 1,500.
"Our clients are mostly managers, lawyers and others in the medical profession, who have little time. We help them optimize their time to earn a Ph.D. But let me make one point very clear, we don't sell doctorate degrees."
Some of his rivals in the doctorate consulting branch, like the "Institut für Wissenschaftsberatung" in Bergisch Gladbach, have been accused of doing exactly that, however, by paying large bribes to corrupt professors.
Peddling skills
For the academic community, consultants peddling skills to students who should be acquiring them on their own are a nuisance.
"We recommend Ph.D. students not to work with doctorate consultants," said Matthias Jaroch, a spokesman at the German Association of University Professors and Lecturers. "But this is a recommendation, not a law."
While numerous universities now require Ph.D. students to affirm under oath that they did their own research and wrote their own dissertation, challenges remain, according to Jaroch.
"There is no federal system in Germany for awarding Ph.D. degrees," he told Deutsche Welle. "And the requirements can also offer differ widely between faculties within the same university. This makes governance difficult."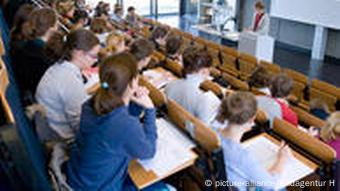 Many busy managers have little time for university life
Fast-track failures
Manuel Rene Theisen, an economics professor at the Ludwig-Maximillian University in Munich, estimates that between two and three percent of the Ph.D. degrees awarded in Germany are illegitimate. So that's between 500 and 700 degrees annually.
Like many other education experts, Christiane Konegen-Grenier, an analyst with the Cologne Institute for Economic Research, is wary of doctorate consultants.
"Both young and older doctorate students who need the services of such consultants can only hurt themselves because they may later show employers and other Ph.Ds that they actually lack the analytical research skills that people with doctorate degrees should have," she told Deutsche Welle.
Author: John Blau
Editor: Sam Edmonds