The very cinematic tale, filmed in black-and-white, examines themes of guilt, distrust and retribution among residents of a small German town besieged by tragedies and strange occurrences as World War I approaches.
The runner's-up Grand Prix award went to French director Jacques Audiard's prison drama "A Prophet".
France's Charlotte Gainsbourg clinched the best actress award for her taboo-defying role as a woman driven insane by grief in the shock Danish thriller "Antichrist", directed by Lars von Trier.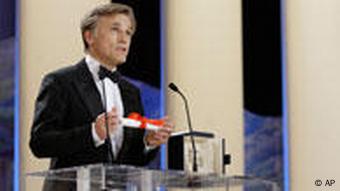 Best Actor Christoph Waltz was praised for being a compelling villain
Gainsbourg thanked the festival "for being brave enough to select films such as 'Antichrist'."
Best actor went to Austrian TV star, Christoph Waltz, for his role as a smooth-talking Nazi colonel in Quentin Tarantino's "Inglorious Basterds". Critics widely agreed that the 52-year-old Waltz outshined a star cast that included Brad Pitt and Diane Kruger.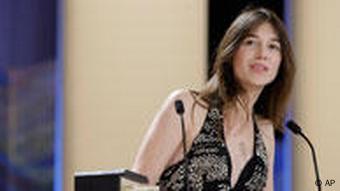 Best Actress Charlotte Gainsbourg pushed the limits of cinema
The best director prize at the festival went to Brillante Mendoza of the Philippines for his dark movie "Kinatay".
Resnais honored for his contribution to French cinema
Alain Resnais, at 86 the grand old man of French cinema, was awarded a special prize for his half-century career. The one-time "new wave" icon returned to Cannes this year with a surrealistic romantic comedy "Wild Grasses", 50 years after he raised a storm with "Hiroshima Mon Amour".
Australian aboriginal director, Warwick Thornton's "Samson and Delilah", a tale of young love in a troubled indigenous community, won the Camera d'Or for best film debut. Thornton's feature takes an unflinching look at the problems facing remote aboriginal communities: violence, drugs, alcohol and poverty.
The outlawed Chinese film "Spring Fever" by director Lou Ye won the Cannes festival's award for best screenplay.
Cult South Korean director Park Chan-Wook and British movie-maker Andrea Arnold jointly took home the Cannes Jury Prize.
Arnold's "Fish Tank", a coming of age drama about a troubled teenage girl in a grim London suburb, was given the award along with Park's "Thirst", a tale of a do-good priest turned vampire and his secret love affair with a friend's wife.
"Arena", directed by Portuguese director Joao Salaviza, won the award for best short film.
gb/AFP/dpa/AP/Reuters
Editor: Andreas Illmer