Music sounds from the shacks of Diepsloot, one of Johannesburg's largest slums. The young filmmaker Simon Maringa and his friend Selby Masaba are singing and dancing to a self-composed song - a homage to their home, Diepsloot. "I love this place and the people here love music," says Simon. Selby, who works as a DJ, grins with a hint of irony: "We live in paradise."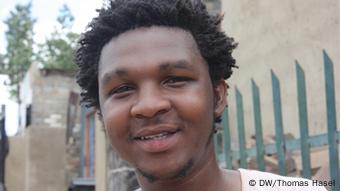 31-year-old Simon Maringa pays tribute to the township through his songs.
An influx of newcomers
There are no exact figures on Diepsloot's population, but the informal settlement houses around 200,000 residents. Newcomers arrive on a daily basis. They are often poor South African or migrants from neighboring Zimbabwe. Only 20 years ago, it consisted of a handful of shacks but in recent years the population of Diepsloot has exploded. In the meantime, a few permanent brick houses have appeared and there are several schools in the area. Most of its residents however continue to live without electricity and running water.
"Life in Diepsloot is very cheap," explains 26-year-old Lerato Monama. She moved to the township in 2003. "If you live in Diepsloot's Area One, you don't pay rent for your hut and you can buy meat for 10 Rand (0,68 euro or $ 0.94) and live off that for two days." Monama volunteers in the residents' association WASSUP (Water, Amenities, Sanitation Services, Upgrading Program), which builds and maintains public toilets in Diepsloot. The government does little to improve sanitation in the area, she says.
Many of Diepsloots residents still live without running water, sanitation and electricity.
Apartheid and a failed housing policy
Like many informal settlements in South Africa, Diepsloot is a result of the politics of racial segregation under the Apartheid regime and the government's failure to implement a proper housing program. Another factor is the gigantic gap between rich and poor, which often still goes hand in hand with the gap between black and white South Africans. After the end of Apartheid in 1994, the democratically elected African National Congress (ANC) government promised every South African their own brick house. They built millions of houses but failed to meet huge demand by the growing urban population.
Is change around the corner?
Many South Africans associate the name Diepsloot with poverty, hopelessness and violent crime. In late 2013, Diepsloot attracted media attention for the kidnapping and killing of several young children over the space of a few weeks. The townships residents agree that crime, drug abuse, rape and violent attacks continue to be a huge problem. "Diepsloot is a very young community," says Mzolosi Mbikwana, who heads Diepsloot's Business Forum. "The majority of its residents are youths. We have a high rate of unemployment and that leads to crimes like the abuse of women and children."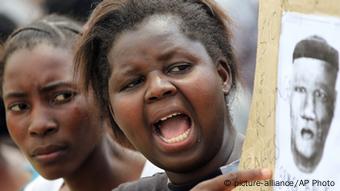 Cases of sexual abuse are still common in Diepsloot.
Diepsloot needs more educational facilities, more jobs and businesses, says Mbikwana. He is both a businessman and a politician from the ruling ANC party. "I believe we need a lot more support from the government in order to promote entrepreneurship and small and medium sized businesses," he says. Mbikwana knows that change needs time to develop and that one cannot rely on the government alone. "Our vision for Diepsloot is that we will unite as a community and make sure that all residents take on some responsibility to improve the situation."
Some of Diepsloot's residents already meet on a regular basis in the hope of providing the youths with new perspectives. Sihle Sakala is 20 years old for instance organizes regular dance and music competitions. "The people here know how important art is because it prevents the youths from turning to crime," she says. "I am very young myself and I decided to choose the right path and do something for my community."
One of the artists who Sihle works with is 19-year-old Tato. He writes and composes songs and acts in a theater group. Tato came to Diepsloot at the age of four and also plans to stay there. "If you want to change something, then it is best to start at the place where you live."