It's well-known that hip-hop emerged in the 1970s as an underground phenomenon in New York boroughs like Brooklyn, Harlem and the South Bronx - mainly among young African-Americans and Latinos. The stylish clubs associated with 70s disco culture were far removed from the grit, crime and violence that plagued many neighborhoods where hip-hop began.
Young and disenfranchised New Yorkers developed their own kind of party that brought together various forms of expression. DJs spun their records while MCs (Masters of Ceremony) rapped along with their own lyrics. B-Boys, or breakdancers, created their own styles, and people scrawled graffiti on buildings and walls.
Hip-hop became not just the driving force for a new kind of party, but also defined a new identity. Rather than taking their problems to the street, many hip-hoppers addressed them in song. New York's ghettos became home to hip-hop competitions.
'Foreign in One's Own Country'
The trend took hold abroad. The first wave of English-language hip-hop came to Germany from the United States at the beginning of the 1980s. Hip-hop parties and competitions sprang up at youth centers - drawing rappers, sprayers and break-dancers from across the country. But German lyricists struggled to find a new vocabulary for this emergent style of music.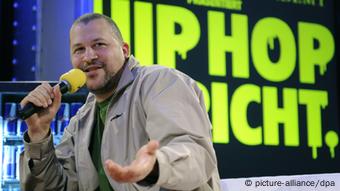 Rapper Torch of 'Advanced Chemistry'
The Heidelberg band Advanced Chemistry can be credited with helping to change that, becoming pioneers in the scene. Starting in the mid-80s, the group and front man Rapper Torch rapped in German to enthusiastic fans. The young men rapped about their identities as Germans with immigrant backgrounds, as well as about racism in everyday life, poverty and unemployment with German lyrics like, "Not recognized, foreign in one's own country / Not a foreigner, but definitely a stranger."
But the Heidelberg rappers didn't enjoy their national breakthrough until autumn 1992 with their single "Fremd im eigenen Land" (Foreign in One's Own Country). The song's popularity came after a series of violent attacks on an asylum seekers' center by neo-Nazis in August 1992. Torch, who was 21 at the time, recalls how the song originated: "The racist attacks happened while we were recording in the studio, so we also recorded the news from the radio and put that into the beginning of the song."
Fresh Familee - Ahmet Gündüz
With "Fremd im eigenen Land," Advanced Chemistry gave voice to the issues faced by many Germans with immigrant family backgrounds. In the wake of the track's success, immigrants - often together with native Germans - hip-hop groups began to spring up around the country, primarily in larger cities. In contrast to more commercial and less political hip-hoppers like Puff Daddy in the US or the Fantastische Vier in Germany, for these groups, hip-hop was a way in which they could address political injustices and the exclusion of minorities in society.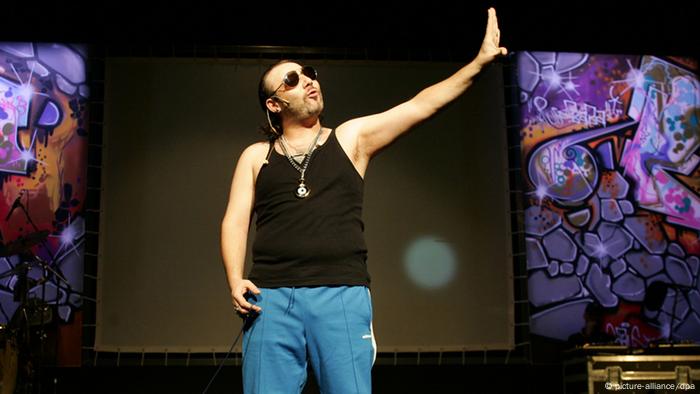 Tahir Cevik, co-founder of Fresh Familee
Fresh Familee was among the first immigrant hip-hop groups. Turkish, Moroccan and Macedonian young people, along with German-Turkish Tahir Cevik, founded the group at the beginning of the 1990s in the low-income area of Ratingen-West, near Düsseldorf. They addressed the problems immigrants face as well as drugs, violence and crime in their songs - topics with which the group's members had first-hand experience.
Fresh Familee catapulted to fame with their song "Ahmet Gündez" in which frontman Tahir Cevik sang about the problems of second-generation Turkish immigrants in Germany: "Du musse schon gut zuhören, ich kann nix sehr viel Deutsch / Ich komm von die Türkei, zwei Jahre her / Ich mich sehr gefreut, doch Leben hier ist schwer" (You have to listen closely, I can't speak much German / I'm from Turkey, been two years / I was looking forward to it, but life here is tough).
Fresh Familee disbanded at the end of the 1990s, but is still considered one of the pioneers of the diverse hip-hop scene that has developed in Germany. The group helped pave the way for names like Aziza A., Challa and Kool Savas - and even for more recent commercial successes in Germany like Sido or Bushido.