Reinhard Griebel grew up surrounded by gnomes in Graefenroda, tucked in the forests of the eastern German state of Thuringia. This village of 3,500 people boasts of being the birthplace of "nanus hortorum vulgaris", or the common garden gnome, which local folklore says was dreamed up by a local potter in 1880.
The craftsmen of the village, including Reinhard's great-grandfather, wasted no time in capitalizing on the idea and, in the land where the Brothers Grimm created Snow White and the Seven Dwarfs, the popularity of gnomes spread fast.
"With his red hat, his lantern, his wheelbarrow and his basket on his back, he is the very image of the miners who used to work in this region," Reinhard said. "He's small enough to worm through the mineshafts and always full of the joys of life."
Illegal under communism
For Reinhard, the reign of the gnomes reached a low point in the days when the communist regime in East Germany banned them because they were considered a capitalist symbol, although they were happy to export them to the West in return for hard cash.
Since the mines shut down in this region, gnome manufacture has become the lifeblood of the village. And there is no shortage of work -- Reinhard estimates there are more than 18 million garden gnomes in Germany alone, 30 of which grace his garden.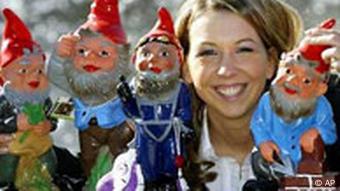 Reinhard has no time for the plastic imitations -- for him, it should be a proper, handmade gnome, or nothing. With the help of his wife Iris and his assistant, he fashions the jolly little figures by hand and gives them names, be it Fritz, Heinz, or Willy. Reinhard can identify each batch by their face, height or what they are doing -- fishing, dozing or even playing cards.
Some are a lot naughtier than that -- one of Reinhard's top sellers is a mischievous 'voyeur gnome' with binoculars raised to his eyes and his trousers round his ankles, available to the more adventurous gardener for 34 euros ($45).