Munich's Five Continents Museum on Tuesday gave Australia back the remains of an indigenous ancestral king that had been in German possession since 1889.
The handover ceremony, which was attended by German officials, the Australian ambassador to Germany and an elder from the Yidinji people, is the first of three set to take place this month in what Australia has called a record return.
The museum's move is in line with recommendations made by German museum experts in 2013 that call for human remains in museums and collections to be returned to their places of origin upon a well-founded request.
Read more: German museum to return stolen grave artifacts to Alaskans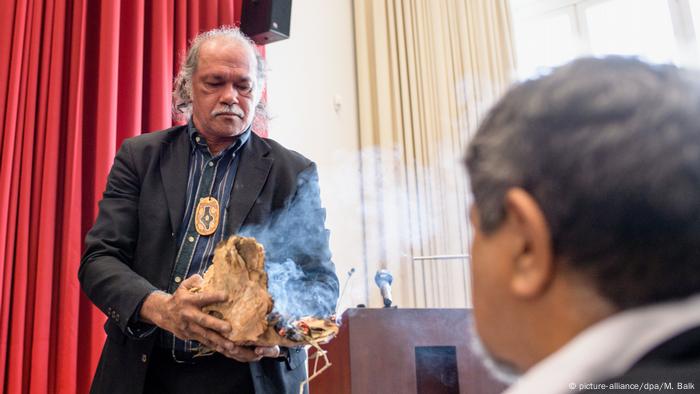 The handover ceremony of indigenous remains in Munich opened with incense burning
Record returns from Germany
A total of 53 Australian indigenous remains are scheduled to be repatriated from Germany in April, with Stuttgart's Linden Museum, Saxony's state ethnographic collection and Martin Luther University near Leipzig also set to return remains in their possession.
Australia's minister for communications and the arts, Mitch Fifield, described this as "the largest number of ancestors returned from Germany to date."
"The [Australian] Government would like to thank the German state governments and the collecting institutions for their commitment to recognizing the significance of repatriation for all Australians, which contributes to healing and reconciliation," Fifield added.
At the handover ceremony in Munich on Tuesday, Bernd Sibler, the arts and science minister for the state of Bavaria, said his state was committed to a "transparent approach to collections from the colonial era," in coordination with indigenous representatives.
Read more: Protests across Australia against 'Invasion Day' holiday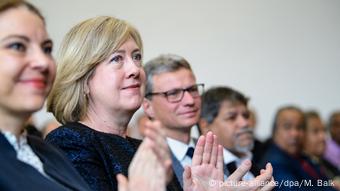 Australia's ambassador to Germany, Lynette Wood, attended the ceremony in Munich
Different communities of origin
Yidinji elder Gudju Gudju Fourmile was present in Munich to receive the remains of his tribe's ancestral king, which were draped in the flag of Australia's native peoples. He described the proceedings as moment of mourning but also of happiness.
Researchers reportedly stole the Yidinji king's remains in 1876 during a burial ceremony, perhaps in an attempt to finance their expedition. The remains of the king's wife were also stolen and but have not been located to this day.
The Yidinji people hail from a tropical rainforest area located on Australia's northeast coast.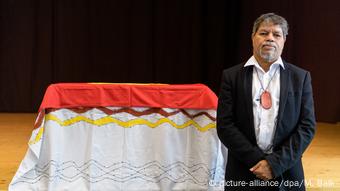 Fourmile used the ceremony to call for the recognition of native peoples as sovereign communities
Other remains will be handed back to representatives of the Yawuru people, while others still will be examined further upon their return to Australia in order to identify their communities of origin.
The native peoples of Australia occupied the land for more than 50,000 years before being violently displaced by settlers two centuries ago.
Skeletons taken for racist research
Skeletal remains of Australia's native peoples were taken by scientists and researchers in the late 19th and early 20th century and placed in museums, universities and collections around the world where they were then subject to purported "biological research" based on racist typology.
Over the past 30 years, Australian officials have supported the "unconditional" return of more than 1,500 indigenous ancestral remains held worldwide.
Up until now, Germany had returned 51 human remains to Australia.
cmb/jm (AFP, dpa)
Each evening at 1830 UTC, DW's editors send out a selection of the day's hard news and quality feature journalism. You can sign up to receive it directly here.