No matter what day of the week -- or what hour of the day, for that matter, Zara stores in Germany are bustling with people of all ages, pawing through racks of low-priced runway knock-offs.
Saturdays are, of course, the busiest, reserved only for fashion masochists willing to rummage through untidy piles of sweaters or wait in seemingly interminable lines to get a changing room.
But therein lies the brand's appeal. Zara's frequent turnover of haute couture-inspired, affordable clothing means there's always a reason for fans to stop in, browse, and most importantly, buy. There are even those who confess to needing their weekly Zara "fix."
It's all music to the ears of Inditex CEO Armancio Ortega, who wants to grow the Zara brand in Europe, and particularly in England, Italy and Germany, according to a report in the German weekly Welt am Sonntag.
Fashion for the masses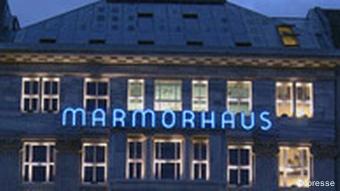 Zara's flagship store in Berlin's Marmorhaus, Kürfurstendamm
"We democratized fashion," Ortega is fond of saying, and he sees plenty of potential for taking that philosophy further in Germany. Whereas Zara competitor Hennes & Mauritz (H&M), a Swedish retail chain, has 270 stores in Germany, Zara has just 37, mainly in large cities such as Berlin, Hamburg and Munich.
Soon though, smaller German cities will be included in the Zara phenomenon. Store openings are already planned this year for Kiel, Darmstadt and Karlsruhe.
Worldwide, Zara has 2,300 shops in 56 countries. Ortega's vision is to double the company's size by 2010. In 2005 alone, Ortega plans to invest 700 million euros ($905 million) in the opening of 350 new locations internationally.
Drawing board to floor in three weeks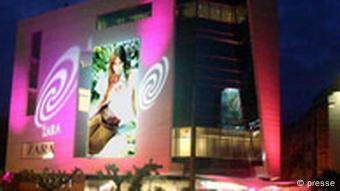 Zara in South Africa
The secret to Zara's success is Inditex's ability to react quickly to fashion trends, rapidly restock stores to meet large demand and fearlessly pull lines that aren't working. Zara can create a new line, from initial concept to stocking store shelves, in three weeks. The key, said Inditex Vice President Jose Castellano, is communication and using technology to control almost every aspect of design, production and distribution.
"That's the only way we can react to the trends so quickly," Castellano said.
Spotting the trends is the job of the company's team of 200 designers.
"We don't carry any big names, and despite this, we have excellent people on staff," Castellano said, referring to competitor H&M's decision to have German designer Karl Lagerfeld create a special, limited-edition line.