In the fashion world, color belongs in the clothes but usually not in the office. And that's also true in the white-washed quarters of the fashion company Qmilch based in Hanover. But there the milky color takes on another dimension. Qmilch founder and fashion designer Anke Domaske is turning milk into thread with big plans for the future.

The 28-year-old from Leipzig comes from a fashion-oriented family and created her first label called Mademoiselle Chichi (MCC) when she was 19. MCC took off, including with Hollywood stars like Mischa Barton, but that didn't stop the young designer from pursuing a second interest: research in the sciences.
"I thought I should also learn something a bit more practical, since who knew whether the fashion thing would work out," Domaske said with a smile about her biology degree.

Combining passions

After six years of attending the elite University of Göttingen each morning and heading to the office at night, Domaske made fashion her focus after completing her degree in 2009.

"It was about then that we heard about producing fiber from milk - it was only possible by way of a chemical process that wasn't at all environmentally friendly," she said.

"We thought, this is a cool idea, let's create a natural fiber here ourselves."

And Domaske's two passions quickly converged in the form of the second company she has founded: Qmilch.

The missing thread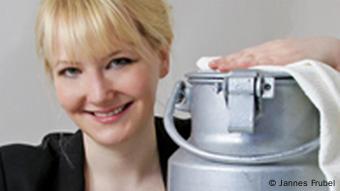 Coming up with the product behind Qmilch brought together two of Domaske's interests
Together with six employees, Domaske headed to the laboratory to start experimenting. Some producers had already attempted to create an eco-friendly version of the milk fiber, but the end results were never tear-resistant enough.

Domaske's spontaneously assembled troop was able to pull off what previous firms couldn't.

"We are all from different disciplines, and I'm actually the only natural scientist. I also never studied textile production," Domaske explained, noting that luck and especially patience were key in the process.

The team would mix a recipe together and try it out. After several hundred attempts, the fiber Qmilch was born.

Revolutionary milk fiber

The patented result is revolutionary. For years, some parts of the fashion industry have been trying to anchor ecological concerns in their practices, but implementation has proven difficult.

For producers of cotton - including organic cotton - enormous amounts of water are required, first for the production of cotton itself but then especially when creating clothing out of it. Colorful t-shirts, for example, are created by using many chemicals that have to be washed out with a lot of water before landing in stores. Among eco-fashion producers, it's rare to see natural colors in good quality.

But milk fiber can be produced with just two liters of water, and Qmilch makes sure to use only milk that is left over from other production processes and can't be consumed by people.

The milk protein casein goes into a big machine along with water and a few other raw materials like bees wax.

"It functions like a big meat chopper - inside you have two spirals, then the material is heated up until it's malleable," Domaske said. "Then the material heads to a spinneret where it gets pressed into a fiber that is thinner than a hair."

Finally, the raw fiber is sent off to a mill and then to a textile producer. The end product has won a number of awards, including the Innovation Prize from Germany's Texile and Fashion Confederation and the Weconomy Prize for young entrepreneurs.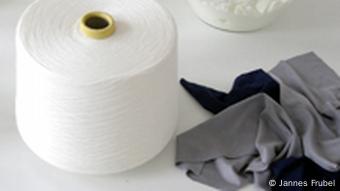 Casein, a milk protein, is the basic material used in production
Skin-friendly

A prototype is already hanging in the Qmilch headquarters in Hannover. Although just 25 percent of the garment comes from the new fiber, the difference is striking - it feels silky and light, perhaps why Cleopatra always bathed in milk.

A second reason for experimenting with milk for the young entrepreneur was that it is mild on the skin. A number of her friends have allergies, and some even have reactions to garments as basic as a cotton t-shirt.

"That really affects a person - we wanted to help people in that situation, and that was the starting point," Domaske said.

Big interest from industry

The market for anti-allergenic textiles is gigantic. More and more people have bad reactions to the chemicals they encounter in daily life, from clothing to bedding or even car seats. The interest in milk fibers from these branches has been large, and automobile manufacturers, hotels and medical technicians have so far been in touch with Anke Domaske.

Next year, Qmilch will move its production to Hannover where it will create milk fiber not just for Domaske's fashion label but also for any other customers. The 28-year-old designer is after a good office location. But one thing seems clear - the walls, just like in Hannover, are sure to be white.

Author: Johanna Kutsche / gsw
Editor: Kate Bowen