Once a year, youth activists, young politicians, civil society members, lawyers and students from around Africa meet for the Annual African Youth Conference. Organized by the Friedrich Ebert Stiftung, a foundation with close ties to the German social democrats party (SPD), this year's meeting set itself the goal of discussing the disconnect between the G20 and Africa, as well as, lack of recognition young African receive from their own leaders. A double disconnect.
With South Africa, being the only African country with a seat at the G20 table, the group of the world's most powerful economies might not be the most ideal forum for dealing with African development. Chancellor Angela Merkel's "Compact with Africa" initiative, however, has put the topic center stage. The plan is to strike up bilateral dialogues, strengthen investment and help African countries develop themselves. The idea sounds good, but a lot of skepticism remains around its implementation and Germany's motives.
In June Merkel invited African heads of state to Berlin, to discuss the initiative. Ivory Coast, Morocco, Rwanda, Senegal and Tunisia were chosen for the first phase of the project. It's clear that Europe sees them as a buffer, deterring young Africans from leaving their homes. For youth leaders in Johannesburg, the whole scenario brings an entire host of questions with it. Will African needs really be addressed? Will the initiative turn a blind eye to human rights abuses, by working with authoritarian regimes like Sudan and Eritrea? Couldn't the G20 help stop illicit tax flows out of Africa, instead of pumping money into it? And can South Africa really represent the entire continent?
Driving through Johannesburg the stark difference between South Africa and the rest of the continent couldn't be more apparent. "It's almost like a western country," noted one of the participants, Violet Mbiti from Kenya. There are, no doubt, large inequalities between the 'haves and have-nots', as well as high levels of crime, but roads, infrastructure and industry all bear the hallmark of a middle- income country.
We want our leaders to listen
For many of the young Africans in the room, getting the attention of their own leaders seems to be the more urgent matter. "Over 60 percent of the African continent is under 25. It means we are thinking very differently from those puppets and corrupt leaders, who have been on the continent working very closely with Europeans," explained Job Shipululo Amupanda, a Namibian politician and university lecturer who describes himself as a radical activist. While not all of the group may fully adhere to Amupanda's theories, his remarks on youth empowerment and the freeing the continent from it's colonial legacy, get a lot of nods and approval.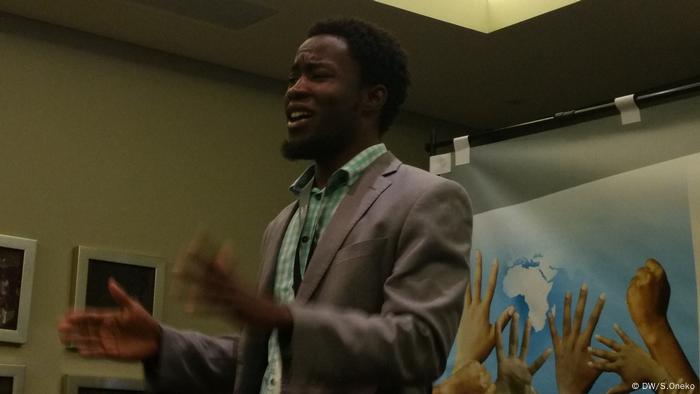 Amupanda: 'We no longer want corrupt leaders'
The problem of rulers who have overstayed their welcome or politicians who have rotated through the political system for years, taking on different government posts, is all too well known. Even countries like Botswana, which do well in rankings from Transparency International or the Mo Ibrahim Index, know the problem. "We have a very passive citizenship and our leaders know that. They rule with such arrogance because we don't hold them accountable," explained Pusetso Morapedi from the Friedrich Ebert Stiftung's Botswana office.
What many of the young leaders at the conference want is to re-activate their fellow youths. Ketakandriana Rafitoson from Madagascar, has tried to do this through her work with the activist group Liberty 32. Together with other civil society groups, they published a guidebook for future activists. The book provides suggestions for small forms of civil resistance, such as plucking up the courage to making a Hyde-Park Corner style speech in a public space, or expressing your message through street art. Malagasies are tired of corruption and the lack of democracy, explained Rafitoson. "People argue about this at home, but they don't say it in public," she added.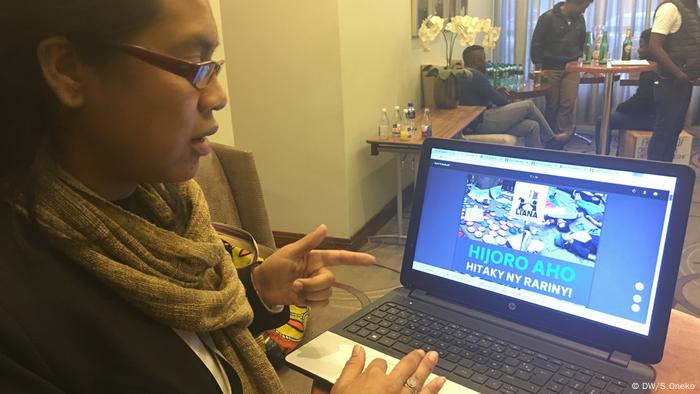 "Stand up for your right" is the name of the guidebook for activism from Madagascar
The Namibian activist, Amupanda, chose a more direct path for making his demands heard. In 2015, he and his Affirmative Repositioning Movement got an appointment with Namibia's president. Their concern was the lack of housing for young professionals in the city and after threatening to occupy the land, they were invited to State House for negotiations. At the time, the government agreed to find 200,000 plots for people, yet to date only a fraction of that and has been provided.
"At the beginning of this year, we pulled out of the agreement, because they were keeping us busy in government committees. You meet and discuss the whole day," Amupanda explained. "They're just keeping you busy, so you don't agitate. You don't go to the streets anymore." The movement is still uncertain about what steps it will take next, but one thing is for sure, said Amupanda, they're not taking no for an answer.
Democracy when it works
For Rhoda Boateng from Ghana, the prospect of citizen participation look a little better. "It's really important that young people are given the platforms, young people are given the space to express themselves," she noted. Ghana, is one country on the continent that was praised for its successful elections and peaceful handover of power in 2016 and Boateng believes that such spaces are opening up. The citizens now feel that they can make a difference and hold politicians accountable. For instance in the discussion around illegal mining. "What is very interesting is how citizens are putting pressure on the government, for it to make sure that the policies that are passed are favourable to the environment being protected, as well as income and livelihoods being protected," Boateng noted.
Voices from everywhere
Aside from the activism, what many of the African countries might need, might simply be found when talking to ordinary youths. In countries like Kenya, where around 88 percent of the population has access to mobile internet, the young people are relatively easy to reach.
Mbiti, a Kenyan social entrepreneur, explained how she and her organization, Youth County Projects Kenya, have been participating in Jiactivate (http://jiactivate.org/), a survey conducted by organizations, including the crowd-mapping platform Ushahidi and the Kenya Red Cross. Through either their smartphone or a text message, the survey collected statements from over 100,000 youths. They shared their most important concerns, which included corruption, unemployment, health care and food security, and ideas on how to solve these problems. The so-called "Youth Declaration" will be published this on July 4, just one month ahead of Kenya's general elections.
For the participants of the youth conference, one thing is clear, they want to have a say in what happens in their countries and they want their needs addressed. Whether it be through their governments or the global institutions like the G20. Or as Irambona Pacis Alarine, one of the participants commented: "There is a saying in Burundi, that if it's not done with us, then it's done against us."