The 117-year-old Nabi Tajima died in hospital in the Japanese town of Kikai, in the Kagoshima prefecture on Kyushu, the southernmost of Japan's four main islands, on Saturday evening.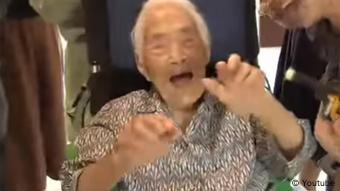 Nabi Tajima moving to music at her care home.
She had been in hospital since January.
Tajima's reign as the world's oldest person lasted only seven months, after Jamaican Violet Brown died at the age of 117 and 189 days on September 15, 2017.
Tajima was born on August 4, 1900 – during the Meiji era in Japan. She was said to have over 160 descendants, including great-great-great grandchildren.
The Associated Press cited the US-based Gerontology Research Group saying another Japanese woman, the 116-year old Chiyo Yoshida, is now the world's oldest person on its records.
According to Japan's Health, Labor and Welfare Ministry, there were 153 centenarians in Japan in 1963 when records were first kept. The figure rose to more than 10,000 in 1998, then to more than 30,000 in 2007, and to 54,397 in 2013.
According to the World Health Organization, Japanese women have a life expectancy of 87 years — just behind women in Hong Kong with 87 years and three months. Japanese men can expect to live until they are 80, which places them among the world's top ten internationally, and ahead of men in the USA.
A study published in the British Medical Journal two years ago found that adults in Japan who followed government advice on what to eat had lower rates of mortality than those who did not. Japan has also had universal health care since 1961.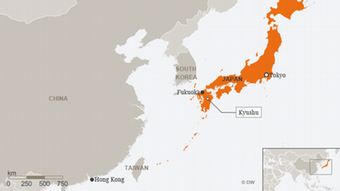 Kyushu, Japan's fourth-largest island
Older still?
A man claiming to be the world's oldest person died last Wednesday in San Jose de la Mariquina, Chile. Celino Villanueva Jaramillo said he was 121.
Born in 1896, Jaramillo lost his birth certificate in a house fire 20 years ago and as a result has never been recognized for his age by Guinness World Records.
jbh/jm (AP)
Each evening at 1830 UTC, DW's editors send out a selection of the day's hard news and quality feature journalism. You can sign up to receive it directly here.