Johannes Heesters, one of Germany's most beloved and certainly oldest stage legends, died on Saturday.
Aged 108 years, Heesters was probably the oldest performer worldwide who was still active both on stage and television.

Heesters claimed he initially wanted to be a priest but that the stage just proved too tempting a career for him not to give a shot. Born in then Netherlands in 1903, he took to acting when he was 17. But his stage career only truly took off when he moved to Nazi Germany in 1935 and conquered the hearts of millions of - predominantly female - fans.
Growing old was something that never really bothered Heesters. In recent years, he celebrated his birthdays with pride - always with large celebration events where he would sing in his trademark, still strong voice.
The entertainer had wanted to reach the age of 110, but in the end managed a "mere" 108. He celebrated his last birthday with his family on December 5. Until very recently, Heesters - who became blind in his later years - continued to sing at events, appear on television and make films.
The eternal dandy
For 16 years, he attended drama school in the Netherlands. His training in acting and singing was financed through his work in a candy factory and a bank. He appeared for the first time in an operetta in Vienna in 1934.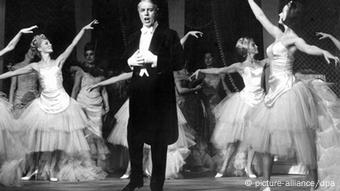 The role of Count Danilo in The Merry Widow became inextricably linked with Heesters
However, his career really began in Berlin, where he became a star by appearing in films such as Der Bettelstudent (The Beggar Student) with costar Marika Rökk. Berliners gave him the nickname "Jopie," which remained with him until the end.
Heesters always described himself as "apolitical" - as an artist and nothing else. This is how he defended himself against attacks from his Dutch compatriots. They resented him because of his meteoric rise to fame in Nazi Germany, becoming a favorite with Hitler. It was said that he had a more distant relationship with the regime later, although this always remained a subject of controversy.
The Dutchman with the charming accent had the ladies wrapped around his finger in his films and theatre pieces. He sang Honore's Soliloquy, in Gigi, 750 times and played Count Danilo in the Merry Widow - the role of his lifetime - a staggering 1,600 times.
His version of I'm off to Chez Maxime's (Da geh' ich ins Maxim) became an all-time favorite. For many, it was difficult to imagine Johannes Heesters with any other look than in top hat and tails with a white scarf - from head to toe, the elegant dandy.
A faithful husband
In fact, in his private life, Heesters was anything but a dandy. When his first wife Louisa died, the couple had been married for 53 years.
In 1992 and at the age of 89, Heesters married his second wife Simone Rethel - 45 years his junior.
Heesters entered the Guinness Book of Records in 1997 as the world's oldest stage actor. Between 1996 and 2001, he performed more than 250 times in the play "A Blessed Age" with Rethel at his side.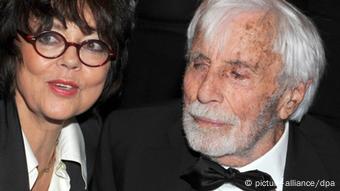 Heesters married his second wife at the age of 89
Also in 1997, he received Germany's Bambi television prize for his life's work. In his acceptance speech, Heesters insisted that he wished to continue in theater until his 100th birthday. Indeed, he continued in theater with his wife right up until his centenary, and even appeared on stage in years to come.
'Maybe next time'
In spite of increasing blindness, he was simply not prepared to give up show business.

"I have lived my life," said Heesters in numerous interviews. For 90 years he trod the stage, made records and films and even wrote books. In all, he collected 10 Bambis, a Golden Camera award and many other media prizes.
His most recent film Ten, in which he played the character Petrus, had its debut in Munich at the end of November.
Heesters, who by this time had been taken into hospital, sent an SMS message from his bed to the movie team.
"Dear Ten Team," it read. "I wish you a great evening and very good luck. It's a shame that I can't be there with you. Maybe next time. Yours, 'Jopie'."
The filming of a story based on a work by Chekov was to be Heester's next project.
Author: Silke Wünsch, Berit Hempel / rc
Editor: Andreas Illmer